Enrollment & Provisioning
Assign and configure devices on-the-fly
Experience a boost in IT efficiency with our state-of-the-art solution for device provisioning and enrollment. Bid farewell to the hassle of time-consuming setups and embrace the best practices for swift and secure deployments.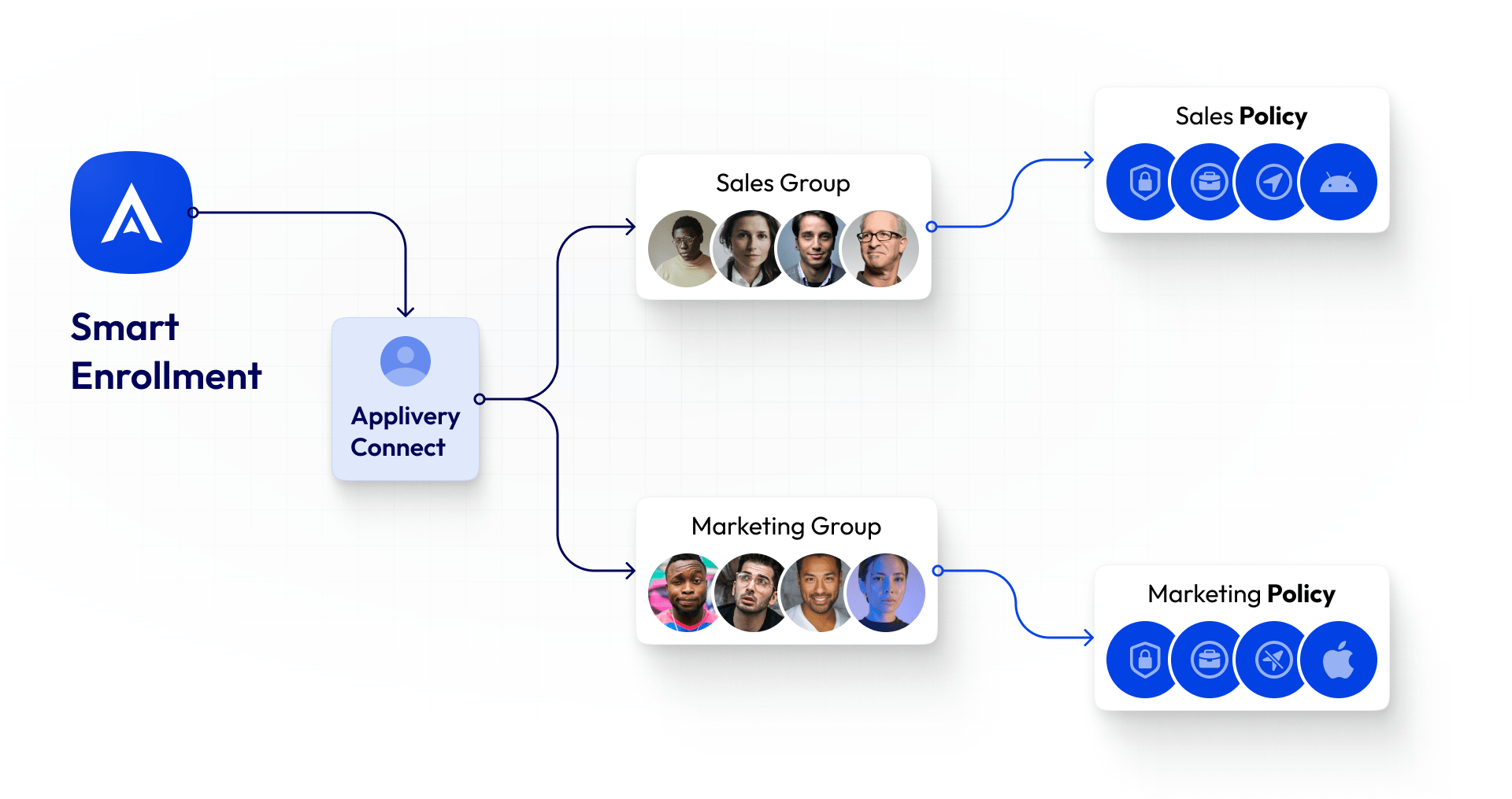 Proven ways to work efficiently
Automate with smart flows.
All resources that users need to work, automatically deployed with a single Smart Enrollment Flow.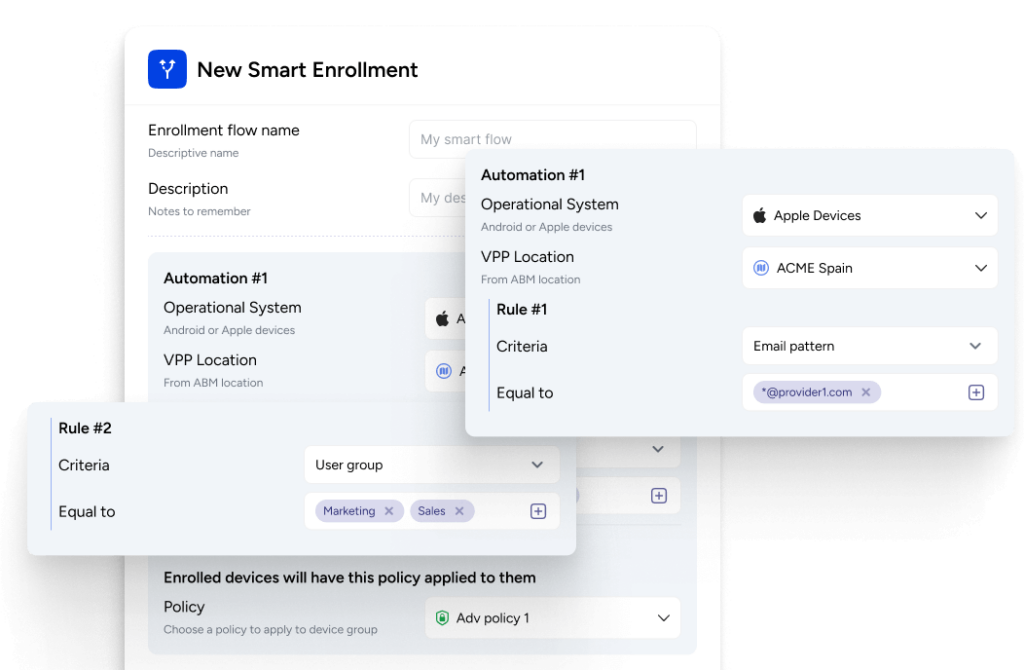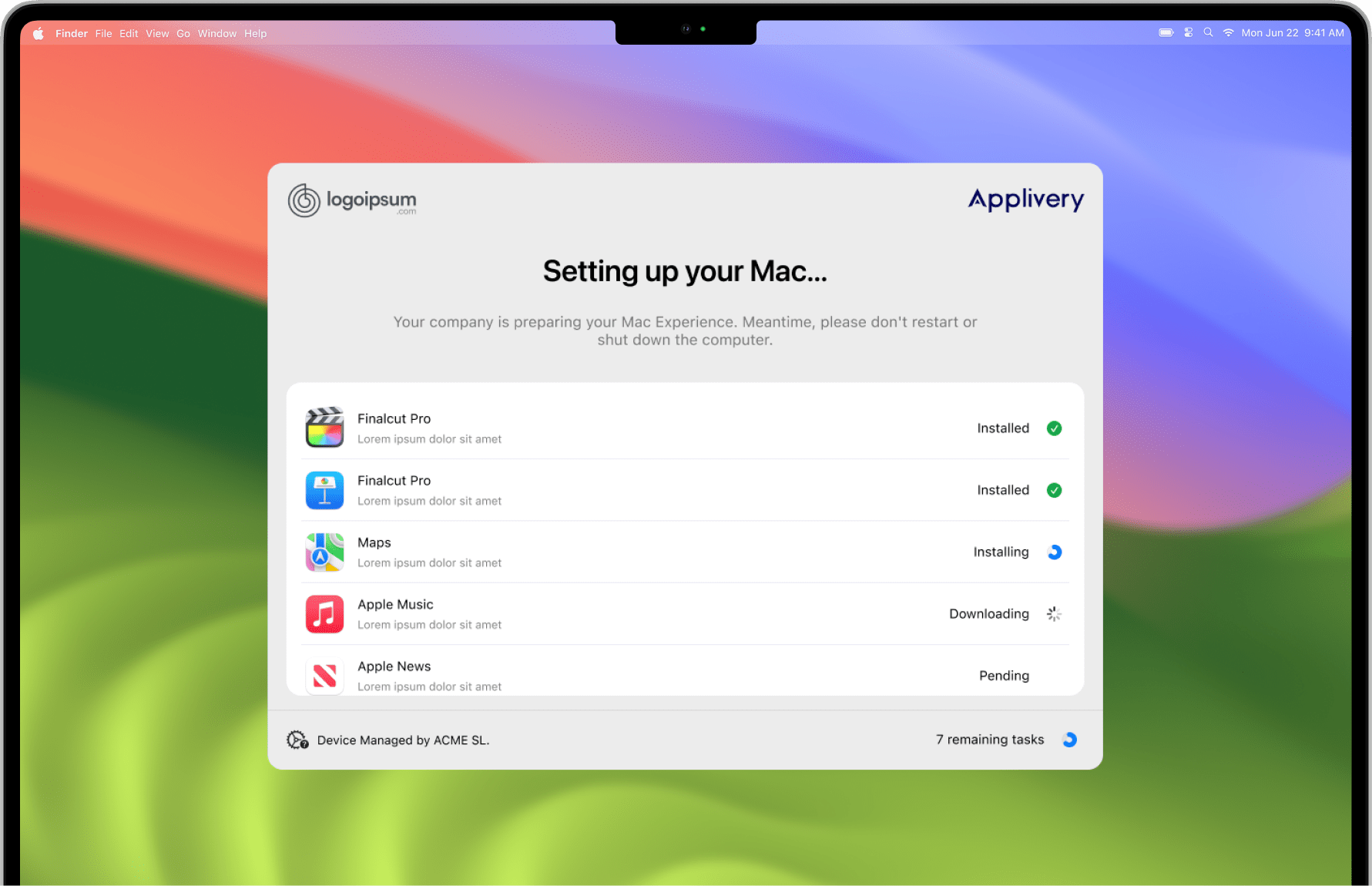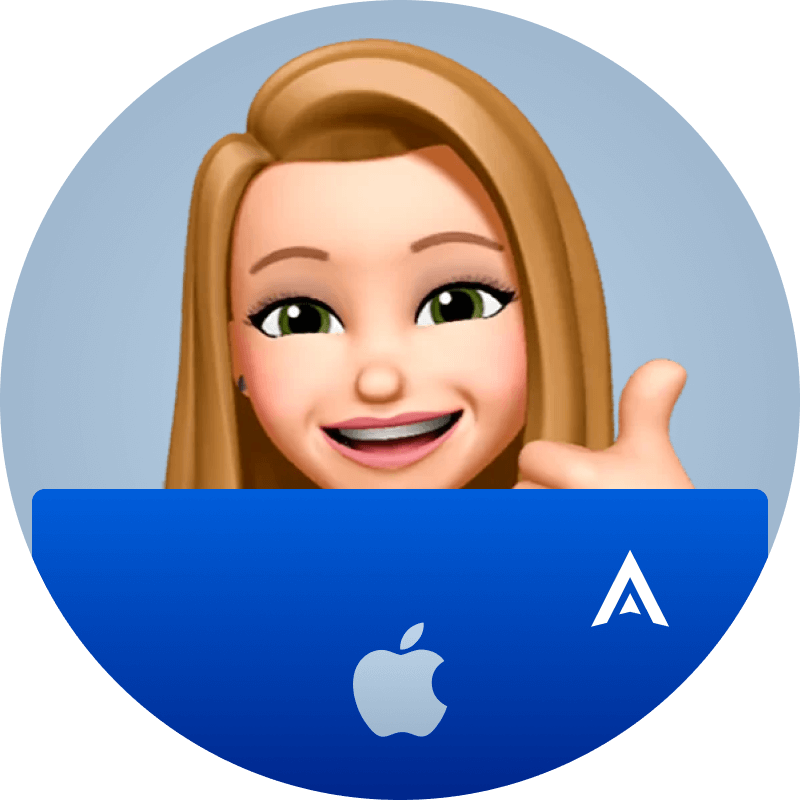 Setup Macs with remote management.
Onboard faster with remote device setup. A transparent yet memorable flow is possible through Applivery.
Managing Devices & Resources
Automates and drives
device management to the next level
Upgrade your Apple & Android device management with IT task automation. Transitioning from manual tasks ensures smoother operations, minimal friction to end users, and reduced frustration due to increased efficiency and security.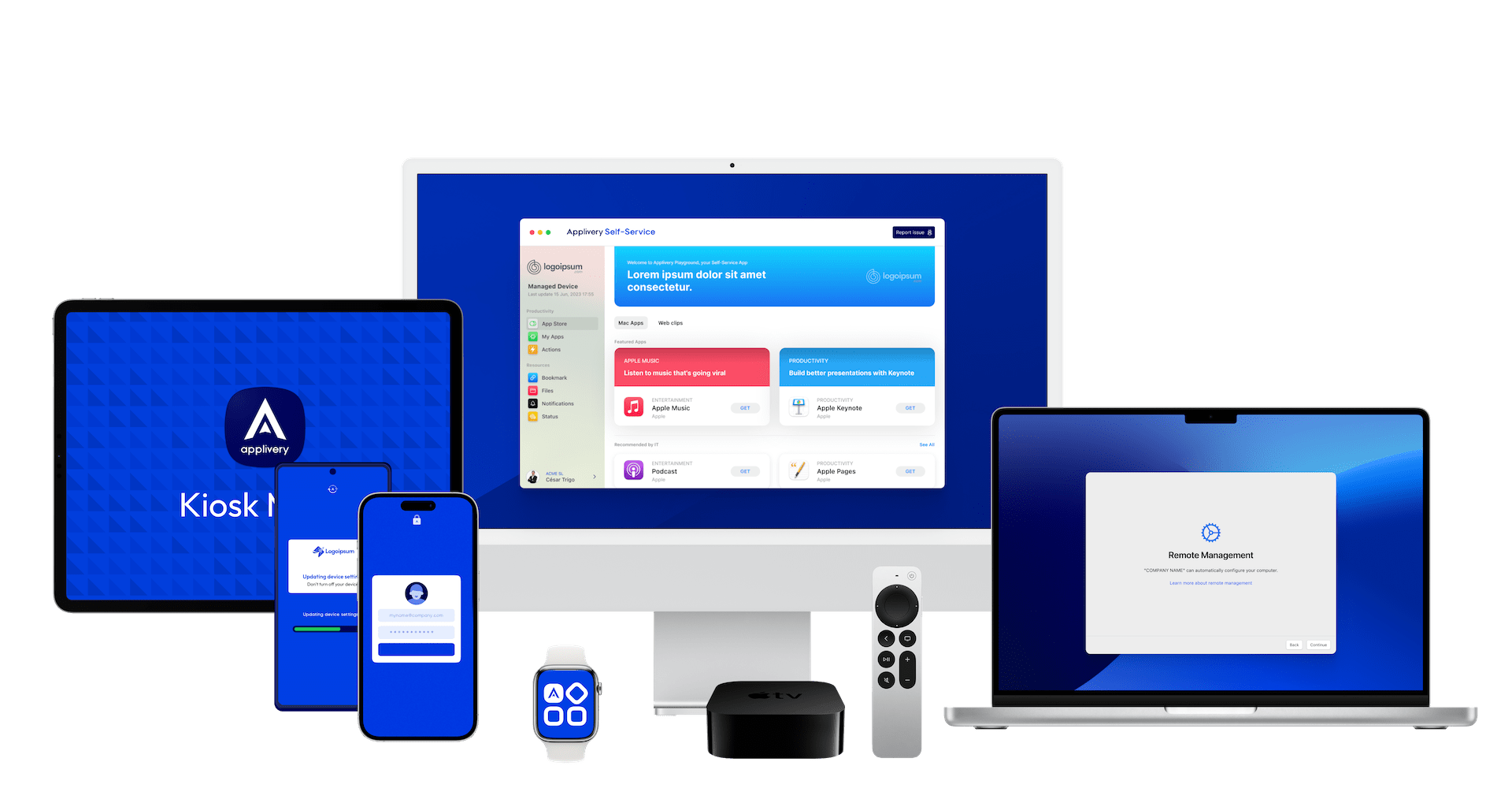 Proven ways to work efficiently
Draw from widely spread policies.
A complete library with the most used policies among MDM users at your hands to avoid having to start from scratch.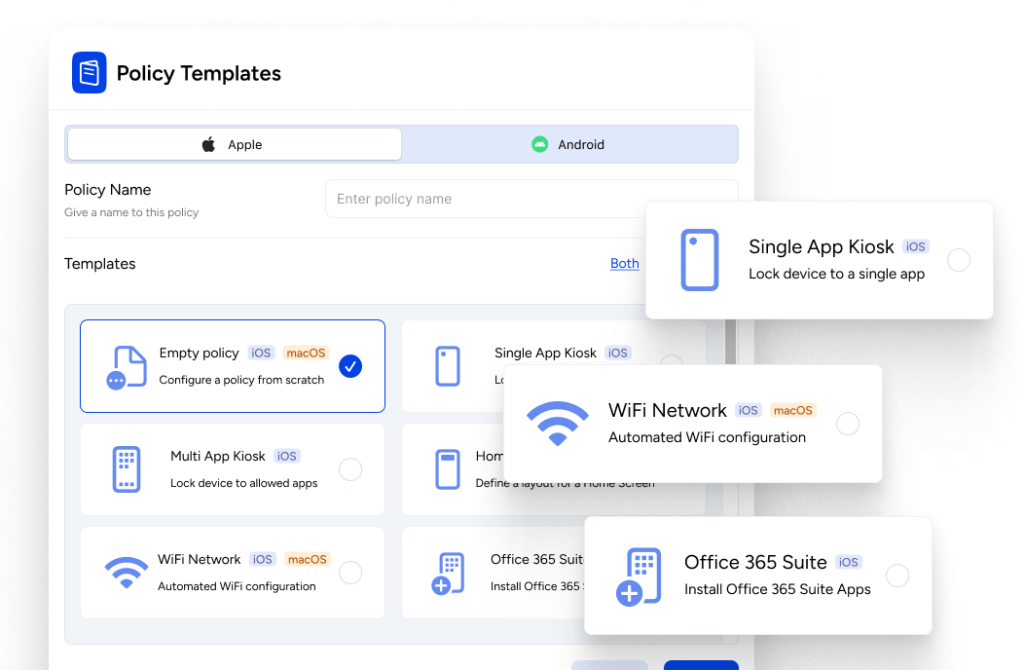 Setup allowed device functions.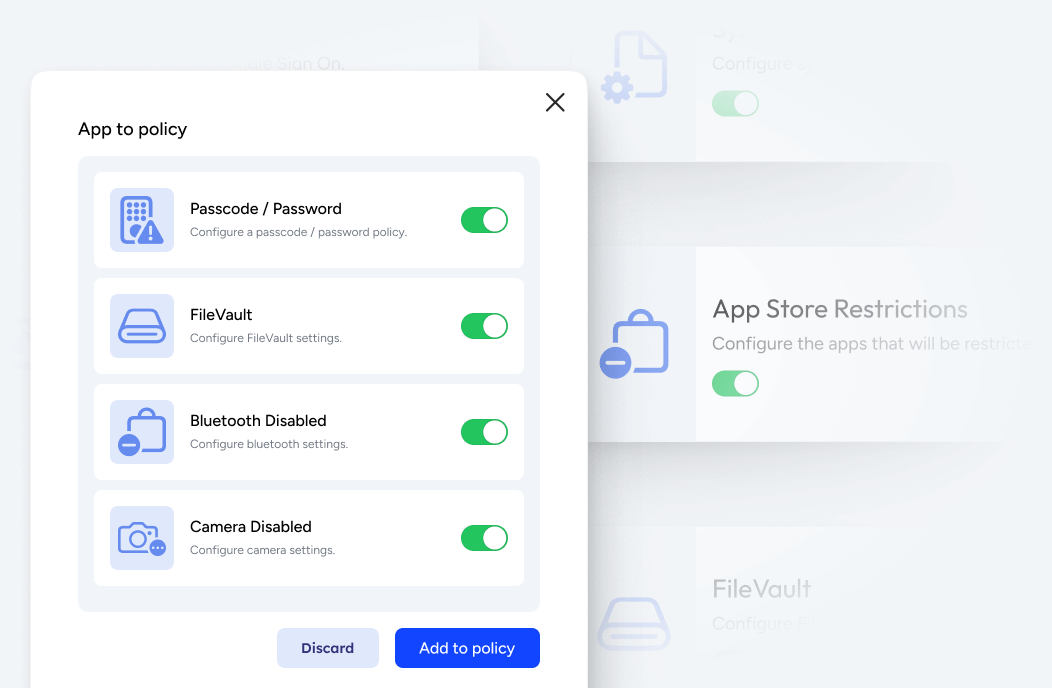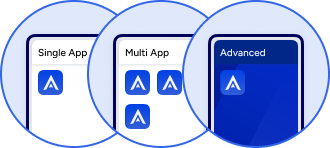 Single or Multiple Apps for Apple & Android
Discover how our device lockdown in single or multi-app mode empowers productivity, elevates employee efficiency, and effortlessly keeps students focused on their tasks. It's the key to unlocking peak performance!
Most commonly used Management features
Apps & Resource Distribution
The world's most advanced app distribution
Complete lifecycle management of every app used in an enterprise with Applivery Mobile App Management, including installing, updating and deleting apps on both corporate and personally owned devices in the organization. Advanced management of licenses, configurations, restrictions and policies.

Distribute apps for unmanaged devices, experience the power of seamless continuous integration right from the start, automating DevOps pipelines with the world's premier app distribution solution.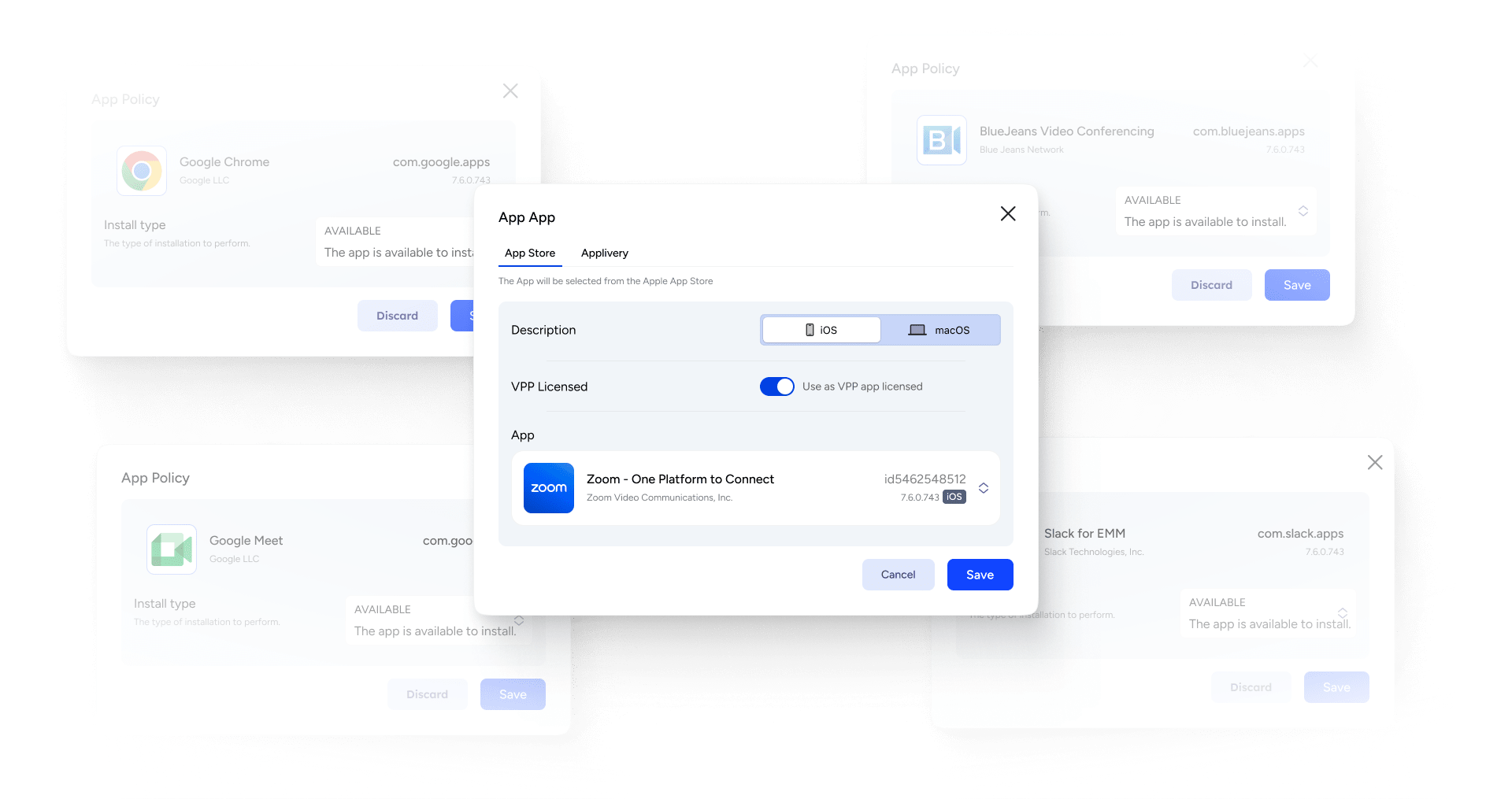 Proven ways to work efficiently
Distribute from any Store
Android Google Play, Apple App Store & Enterprise App Store.
Distribute apps to android and apple devices, from official stores, or create your own store to distribute to unmanaged devices.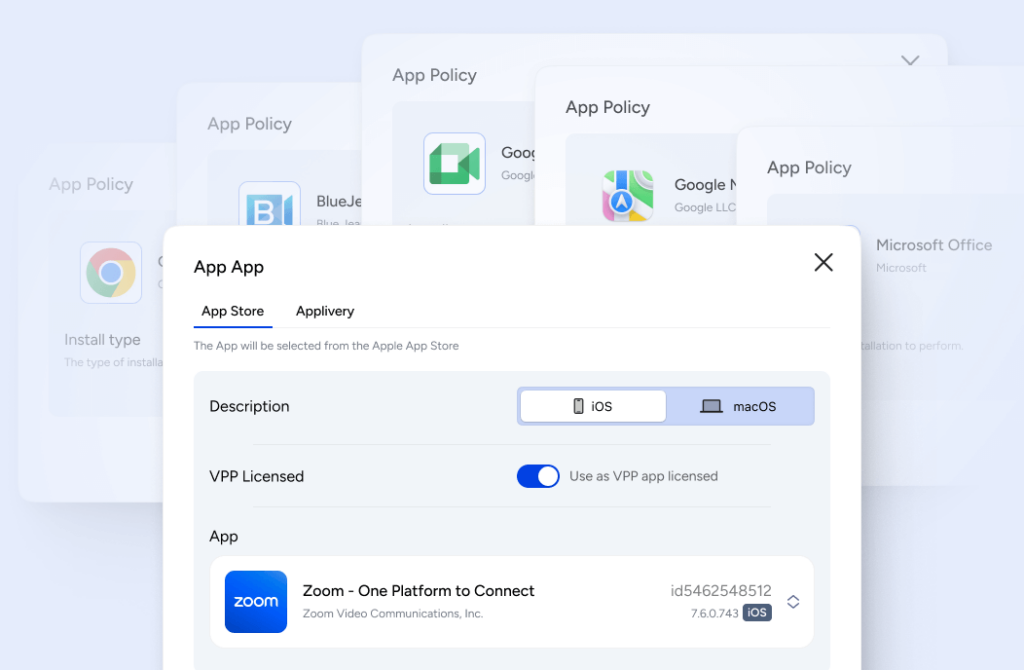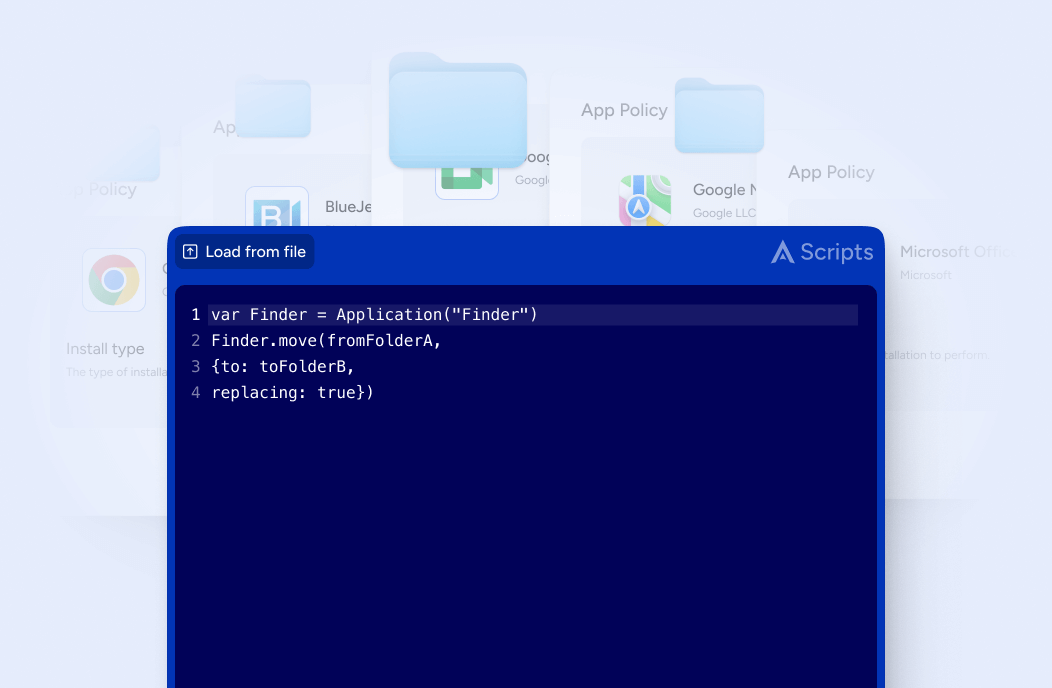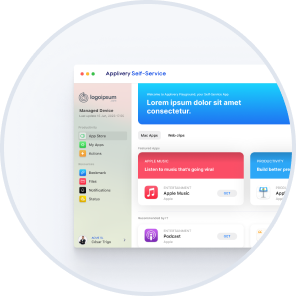 Corporate apps just a click away from employees
Empower your users with corporate Apps, Scripts and Files, on-demand task request, and avoid your users needing to open tickets for tasks that you can execute remotely.
Most commonly used Distribution features
Protect corporate data and comply with regulatory compliance
Centralized management, top-notch security, seamless force updates, and continuous compliance monitoring, you're giving your IT team the tools they need to work smarter, not harder. Elevate your device fleet management security today!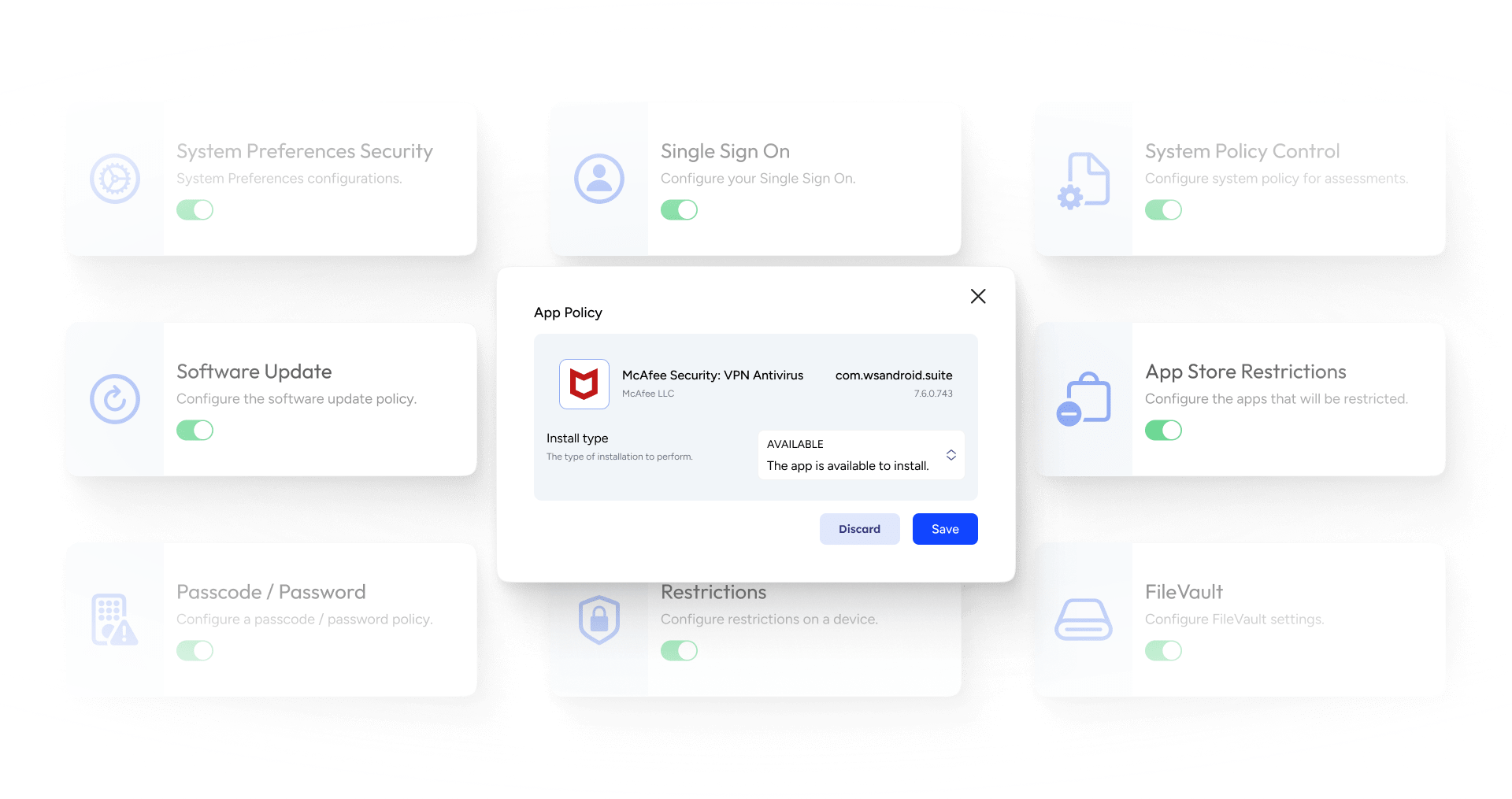 Compliance with security frameworks.
Secure corporate devices with MDM to protect sensitive data, prevent data loss, comply with regulations and improve employee productivity.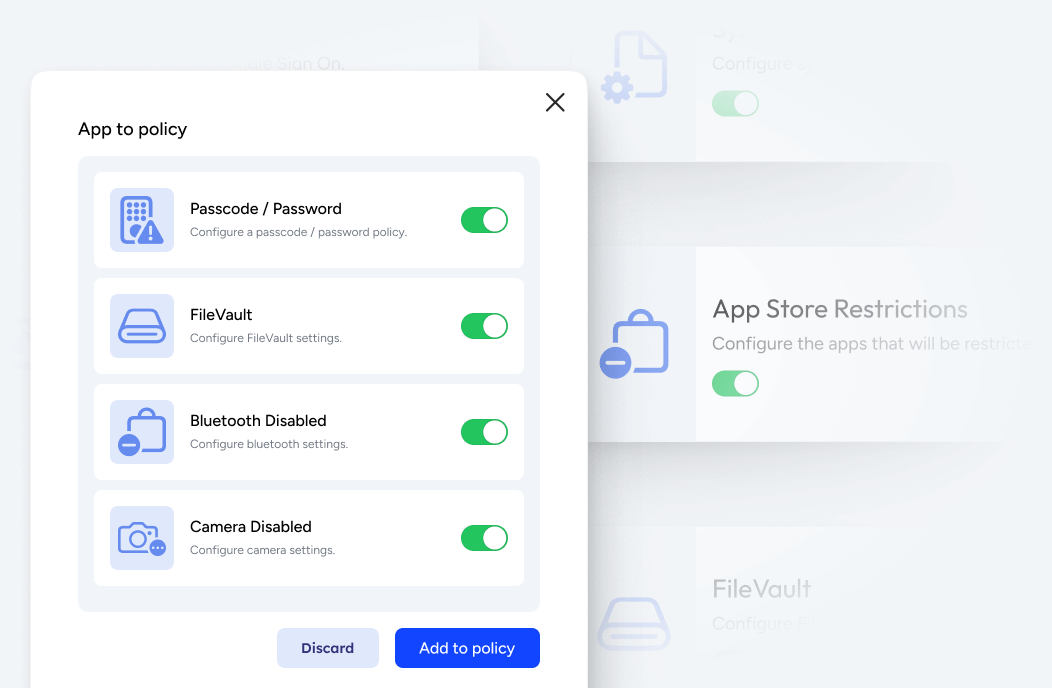 Ensure corporate data protection.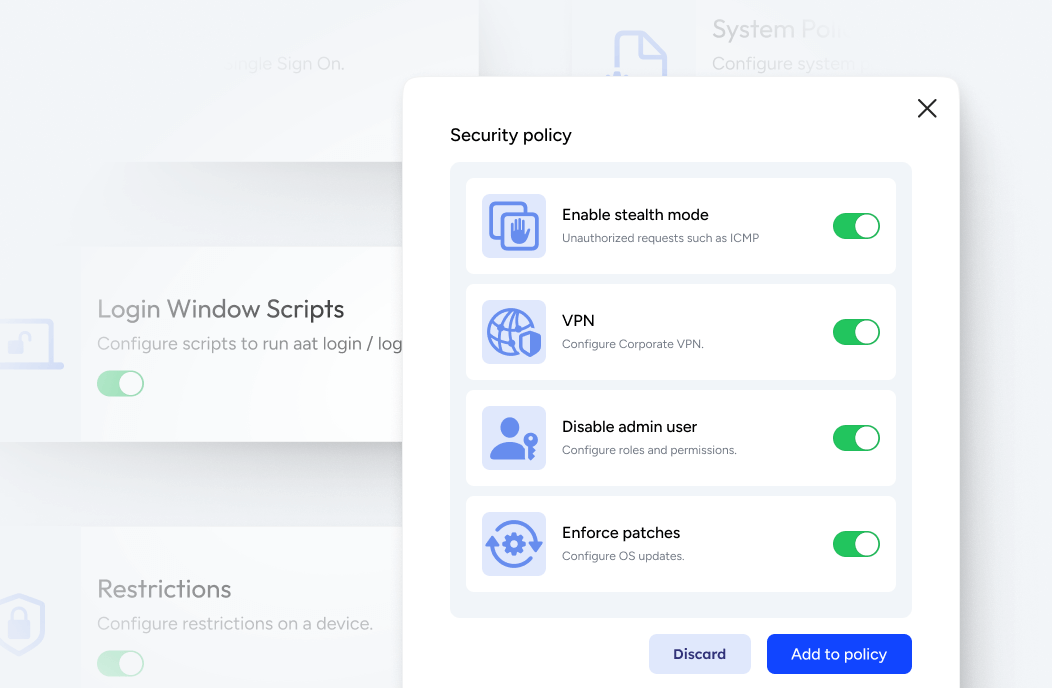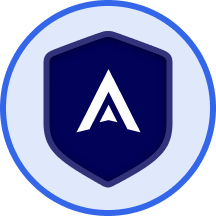 Ensure compliance with established security frameworks and standards.
With Applivery MDM you'll be well-equipped to meet the most stringent security standards and with a few clicks deploy across the entire organization, as well as monitor and audit compliance.