As IT admins, managing Android devices in the workplace can sometimes feel overwhelming with the multitude of policies and settings to configure. But fret not!
At Applivery we have revamped Android policies and rearranged them into 8 new sections, making it easier than ever to configure devices quickly and efficiently. In this blog post, we'll explore the new sections and how they can help streamline your device management process.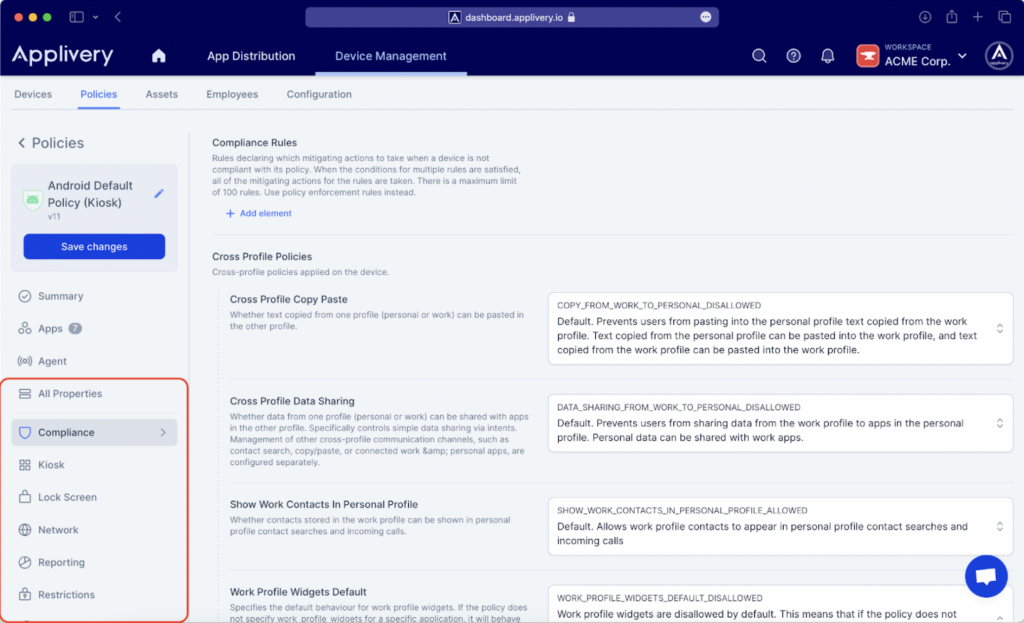 Rearrangement of Android Policies
1. Compliance
The Compliance section is a game-changer for IT admins who need to determine policy compliance in different operating modes, such as work profile or fully managed devices. This section gathers all the rules that will be applied to assess compliance, making it easier to find and configure the right policies for your organization's needs.
2. Kiosk
This is a powerful feature that allows you to lock down devices and restrict access to a single app or multiple apps. With the new Kiosk section, you'll find all the settings related to kiosk mode in one place, including custom launcher options. This makes it easier to configure devices for kiosk mode and ensure they're used only for their intended purpose.
3. Lock Screen
With the Lock Screen section you can now easily configure settings to enhance lock screen security, such as password requirements, fingerprint or face unlock options, and more. Protecting devices from unauthorized access has never been easier.
4. Network
These new settings extend the functions you'll find in the WiFi section, making it easier to configure network settings on Android devices. From configuring VPNs to setting up cellular data usage, this section has you covered for all your network configuration needs. Say goodbye to hopping between different sections to configure network settings – it's all in one place now!
5. Reporting
A new boon for IT admins who need additional information about devices. This section includes properties that enable reporting of installed apps, hardware status signals, memory information, displays, and more. Having access to comprehensive device information in one place can aid in troubleshooting and decision-making.
6. Restrictions
The Restrictions section gathers all the settings related to device usage limitations. From setting up app restrictions to controlling access to device features, this section makes it simple to apply restrictions and limitations to devices as needed. Keep your devices secure and ensure compliance with organizational policies with the new Restrictions section.
7. Security
From configuring security settings such as device encryption, password requirements, and more, to managing device security certificates, this section simplifies the process of securing Android devices in the workplace.
8. WiFi
A new and intuitive form for configuring WiFi network settings. Setting up WiFi networks on Android devices has never been easier with the new layout and design of this section. Say goodbye to complex configurations and hello to a seamless WiFi setup experience.
All Properties: Search Across All Categories
If you need to search for a specific policy or setting across all categories, the All Properties section is still available. This section allows you to search for policies or settings across all categories at once, making it convenient to find what you're looking for without having to navigate through individual sections.
Conclusion
The rearrangement of Android Policies into 8 new sections brings a breath of fresh air to device management for IT admins. With a more organized and intuitive layout, it's now easier than ever to configure Android devices for your organization's needs. Whether you're setting up kiosk mode, managing compliance rules, securing devices, or configuring network settings, the new sections provide a streamlined approach that saves time and effort.
The intuitive design of the new sections, such as Compliance, Kiosk, Lock Screen, Network, Reporting, Restrictions, Security, and WiFi, provides a user-friendly experience for managing Android devices. No more hopping between different sections – everything is neatly categorized, making it easier to locate and configure the necessary settings.
Overall, the rearrangement of Android Policies into 8 new sections is a welcome enhancement that simplifies device management for IT admins. It empowers organizations to customize and secure their Android devices with ease, while also providing valuable insights and comprehensive search capabilities.