WWDC23 has probably been one of Apple's most impactful. The Worldwide Developers Conference 2023 has dazzled tech enthusiasts around the world with an avalanche of surprises. But don't worry if you missed the live stream, because here we bring you an exciting recap of all the hardware and software innovations presented at WWDC 2023. Get ready for a fascinating journey through iOS 17, iPadOS 17, watchOS 10, Apple Vision Pro, MacBook Air, and much more!
Apple blew the audience away with an emotionally packed keynote, introducing a variety of exciting products and updates designed to meet the diverse needs of users. From sleek new Mac devices to cutting-edge software enhancements, Apple showed its commitment to pushing the boundaries of technology. And the grand finale? The unveiling of Apple Vision Pro, a revolutionary set of augmented and virtual reality glasses that will change the game in the industry.
Let's dive into the highlights of WWDC 2023, where innovation and creativity take center stage. From innovative features to impressive specs, here's a look at Apple's vision for the future.
The event kicked off with the introduction of the highly anticipated MacBook Air. This sleek and powerful device features an impressive 15.3-inch display, two Thunderbolt USB-C ports, and a fast M2 chip. Like the model unveiled a year ago, this larger version, powered by the M2 chip, offers the same performance features. A standout feature is the unified memory option, ranging from 8 GB to 24 GB, and 256 GB minimum storage, expandable up to 2 TB.
Lightweight is key in this version of the MacBook Air. While it clearly increases in dimensions and weight compared to the 13.6-inch model, Apple continues to emphasize its lightness compared to other laptops of similar size. In addition, it has opted to include an IPS panel at 60 Hz and with a built-in notch, following the trend already seen in the MacBook Pro M2.
With up to 18 hours of battery life, this MacBook Air is ideal for those who value a large screen over power. Whether you're a creative professional or a multitasking enthusiast, this new MacBook Air is designed to take your productivity to new levels. Its exceptional performance and efficient user experience make it outperform even the most powerful Intel processors.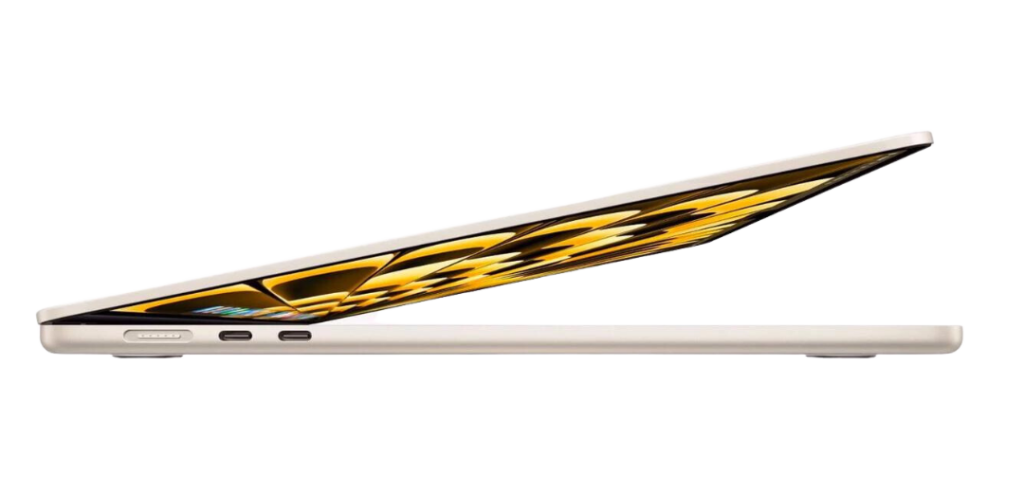 Mac Studio with M2 Max and M2 Ultra Chips
Apple has decided to renew its flagship product for professionals, providing even more power and performance. The Mac Studio has caught the attention of many due to its large capacity in a small space, which facilitates the configuration of a comfortable workspace. This time, Apple has kept the design, but has integrated the powerful M2 Max and M2 Ultra chips into its configuration, demonstrating its commitment to performance and innovation.
With this change, Apple is betting on a 24-core CPU, which offers 20% faster performance than the M1 Ultra. It also features a 64-core GPU, providing a 30% performance boost. But the real novelty lies in the neural engine, with 32 cores, which boosts processing and machine learning capabilities. However, the most outstanding aspect is the RAM memory, with a unified capacity of up to 192 GB, which represents a 50% increase compared to the previous model.
This new Mac Studio will be able to simultaneously play 22 video streams in 8K quality, taking the visual experience to a higher level. In addition, connectivity is boosted by allowing the connection of up to 6 Pro Display XDRs through the same HDMI port, providing greater flexibility for users.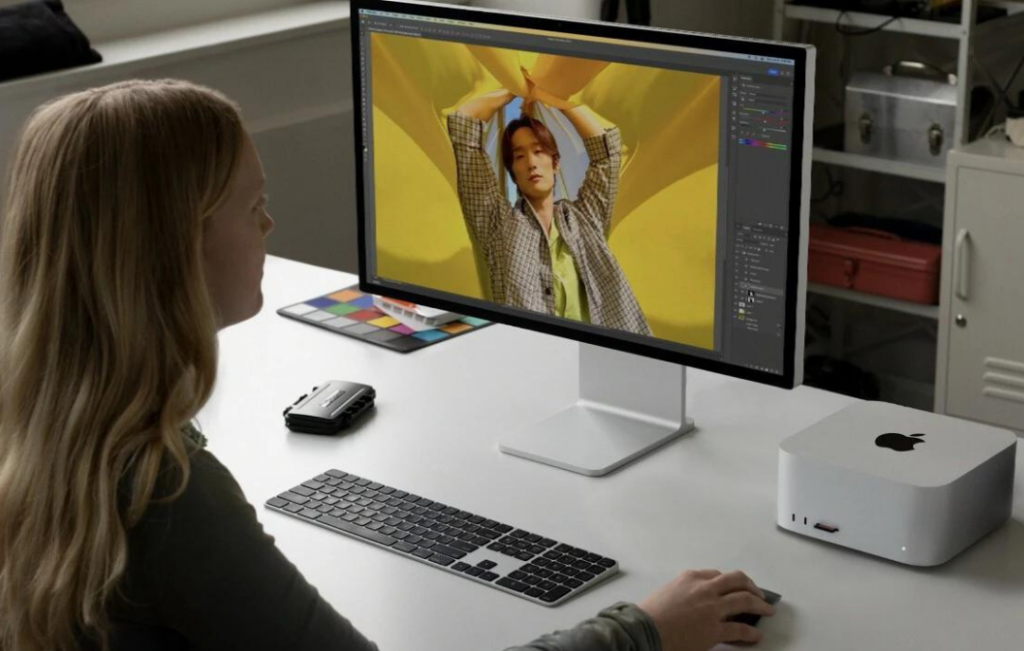 Mac Pro with M2 Ultra Chip
Finally, Apple has integrated Apple Silicon processors into its new Mac Pro, closing a transition cycle to its own chip architecture. This new Mac Pro offers unparalleled performance for professionals looking for unlimited power and performance. Equipped with the M2 Ultra chip, it features a 24-core CPU, a 76-core GPU and an impressive 192 GB of RAM. It also incorporates a 32-core neural engine, enabling intelligent and fast processing.
In terms of connectivity, the Mac Pro offers significant improvements by including eight integrated Thunderbolt 4 ports (six on the back and two on the top). This provides a wide variety of connection options and enables fast and efficient data transfer. In addition, it features two HDMI ports that support resolutions up to 8K, providing a stunning visual experience. Wireless connectivity has also been enhanced with the addition of Wi-Fi 6E and Bluetooth 5.3, ensuring a fast and stable connection.
The pricing? Starting from a base configuration of $6,999, the price can increase considerably depending on the processor and amount of RAM selected. While this price may be a factor to consider, those looking for maximum performance and unmatched capabilities will find the Mac Pro a powerful and reliable tool for their professional needs.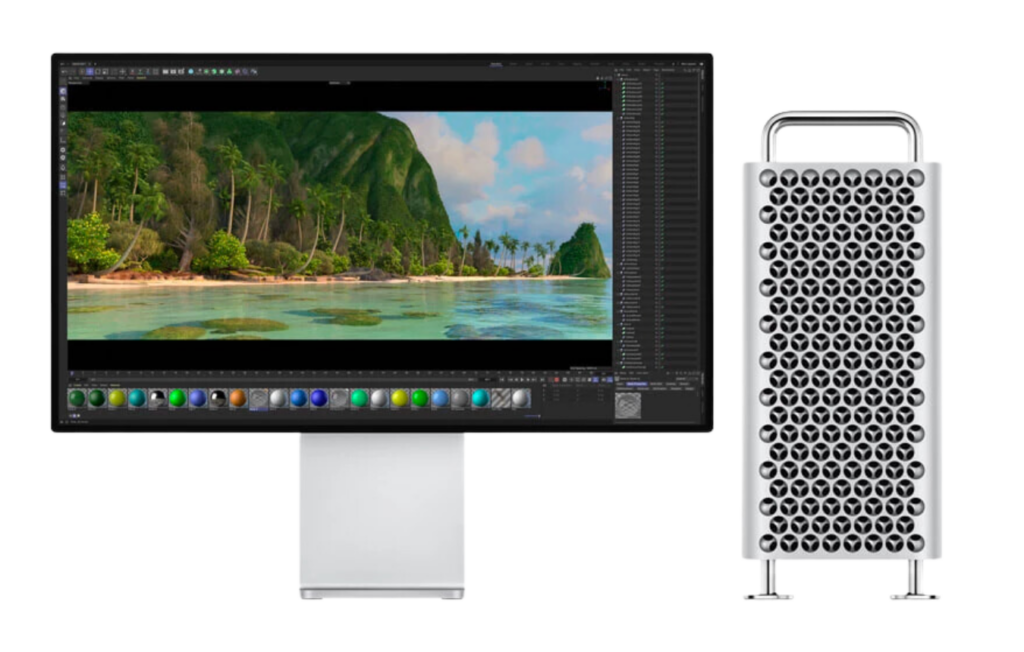 The new iOS 17 update brings with it many new features and small improvements among which we highlight:
Greater personalization in your contacts and lock screen, providing a more personal and attractive experience. Now, you will be able to edit your contacts with a new interface that allows you to add photos and memojis, as well as use eye-catching fonts. These images will be displayed when you receive a call from that contact and will be visible throughout the conversation.
Calls have been introduced with a real-time live transcription feature, allowing the hearing impaired to read the conversation as it is happening. This feature also applies to voice messages in the Messages app, making communication more accessible. In addition, replying to messages is easier, as you only need to swipe your finger, and the search function helps you find missed messages more easily.
Share your location in real-time with the "Check in" function, allowing your family and friends to keep track of you. Also, if you are unable to answer a call, an alert will be sent to the other person so they are aware.
On FaceTime, you will now be able to leave video messages if the person doesn't answer the call, just like a traditional voicemail. Stickers have also been expanded and you will now be able to use them in third-party apps, providing even more options for expression.
AirDrop has also been improved in iOS 17. Now, if you are sharing large files through this system, you will be able to move away from the sending iPhone without losing the connection, as it will use the internet connection to continue sharing the files.
The autocorrect has also been optimized and is now more reliable, thanks to a "transformational" language model. It will learn from the corrections you make, which will improve the user experience. Voice dictation also works better, thanks to the use of a neural engine.
New application called "Journal" that allows you to group your memories, including people, places, activities, and music, as well as photos. This application works like a real diary, where you can write down your feelings about the moments you are collecting. However, this app will be available later, probably with an iOS update.
Another important change in iOS 17 is the way to invoke Siri. Now you just need to say "Siri" instead of "Hey Siri". Also, you will be able to give her consecutive commands without having to invoke her again.
"StandBy" feature that turns your iPhone into a stylish alarm clock when it is placed in a MagSafe cradle. This feature displays a customizable screen with time, photos, widgets, weather and calendar. It adapts to ambient light and offers a red tone during the night to help you sleep.
With all these improvements and new features, iOS 17 takes personalization and user experience to the next level, delivering a more seamless, intuitive, and exciting experience.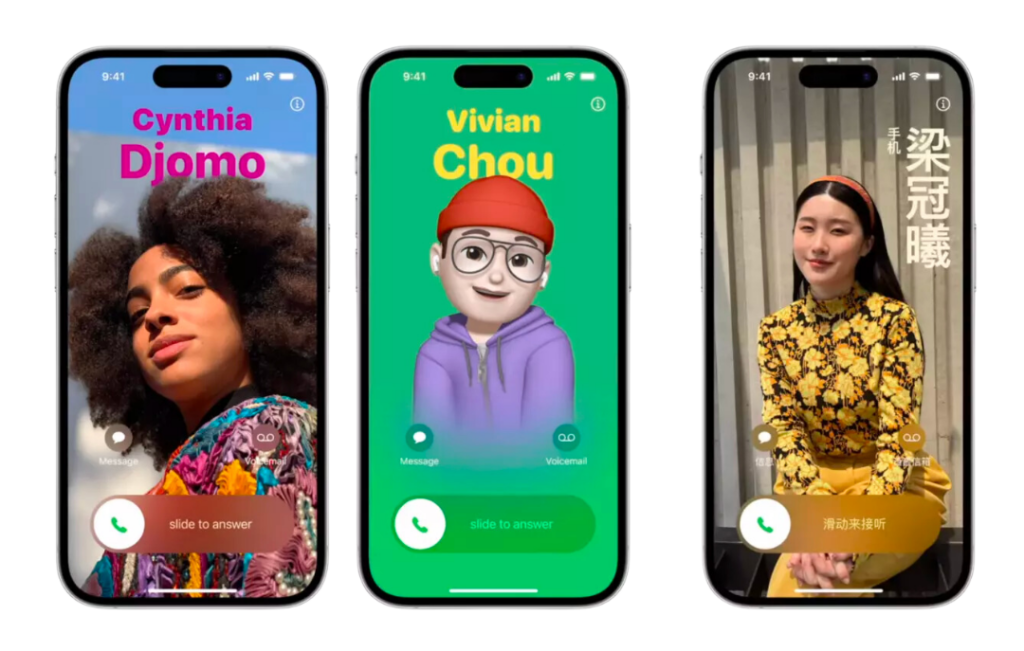 iPadOS 17, brings with it a significant evolution rather than a revolution. Much of its new features are based on what we already saw in iOS 16 and iOS 17:
Introducing interactive widgets on the home screen, allowing you to play music or mark reminders as completed without having to open the corresponding app. This feature is also shared with iOS 17.
Ability to have different iPhone-style lock screens, allowing you to customize wallpapers and change the date font. In addition, you can add widgets to these lock screens.
"Live Activities" also makes an appearance on iPads, giving you the ability to set timers or check live sports scores from the lock screen, just like in iOS 17.
The "Health" app also receives a major update, arriving in a format adapted to the larger screen of iPads. You will now be able to control the same health aspects that were previously only available on iPhones.
As for PDF document management, improvements have been incorporated, such as the possibility of signing documents with Apple Pencil or using the autocomplete function in text fields. You will also be able to create documents collaboratively.
Another notable improvement is the ability to visually organize content by using different window sizes. This is especially useful when using the iPad with an external monitor, allowing for better organization of space.
iPadOS 17 also shares some new features with other Apple systems, such as the option to leave video messages via FaceTime when you don't get a response to a call.
In addition, as in iOS 17, it will no longer be necessary to say "Hey Siri" to invoke the assistant, it will be enough to say "Siri".
With all these enhancements, iPadOS 17 offers an improved and more complete experience for iPad users, providing greater customization, additional functionality, and better content management.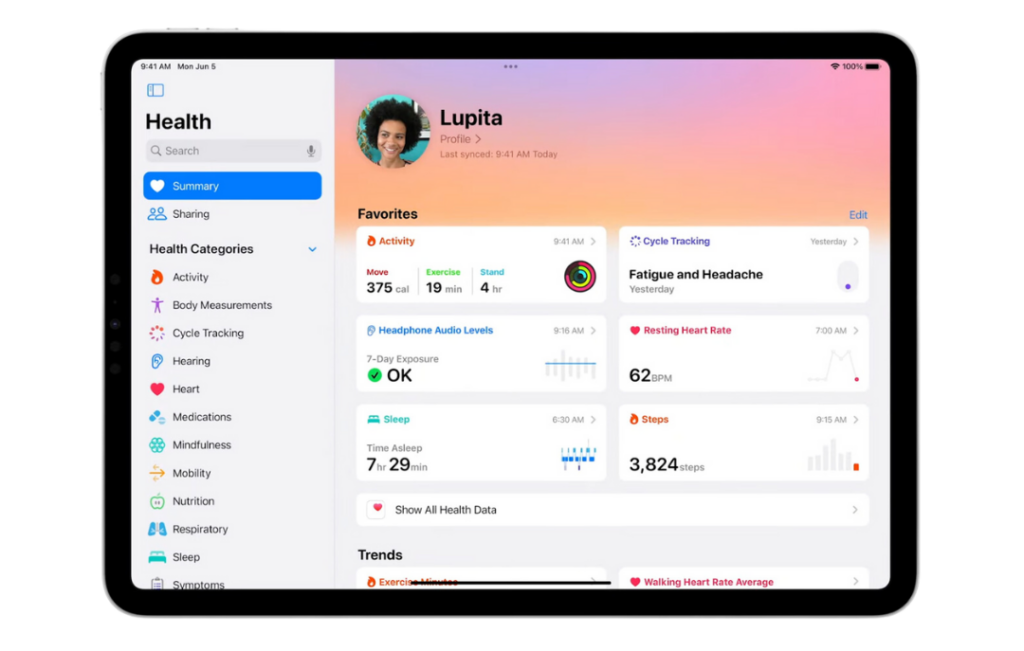 The new version of macOS arrives with exciting new features that will enhance the user experience. One of the first updates you'll notice are the new Sonoma-inspired wallpapers, which add a fresh and vibrant touch to your desktop.
But the highlight is the support for widgets, which were previously located in the Notification Center and can now be placed directly on the desktop. These widgets are highly customizable and will fade into the background when you open an application so as not to distract you. In addition, you'll be able to enjoy a wide gallery of options as it takes advantage of the widgets available on iOS. You'll even be able to interact with widgets on your iPhone from your Mac and vice versa.
On the gaming front, Apple has introduced a new game mode that prioritizes CPU and GPU performance to deliver the best gaming experience. In addition, developers have been provided with a new set of tools that will make it easier to port games to macOS, similar to what happens with PC games. An exciting surprise was the appearance of Hideo Kojima, who announced that Death Stranding will be available on macOS.
Safari has also received significant improvements, such as the ability to create separate profiles for work and personal use. This will allow for specific bookmarks and settings for each realm, and Apple seeks to promote digital disconnection and work-life balance.
In addition, a new system of shared passwords with family has been added, which will make password management easier and improve security. The ability to create apps for any website has also been introduced, providing a smoother and more personalized experience when browsing the web.
As a result, macOS consolidates its position as a powerful and versatile operating system, offering an exceptional work and entertainment environment for Mac users.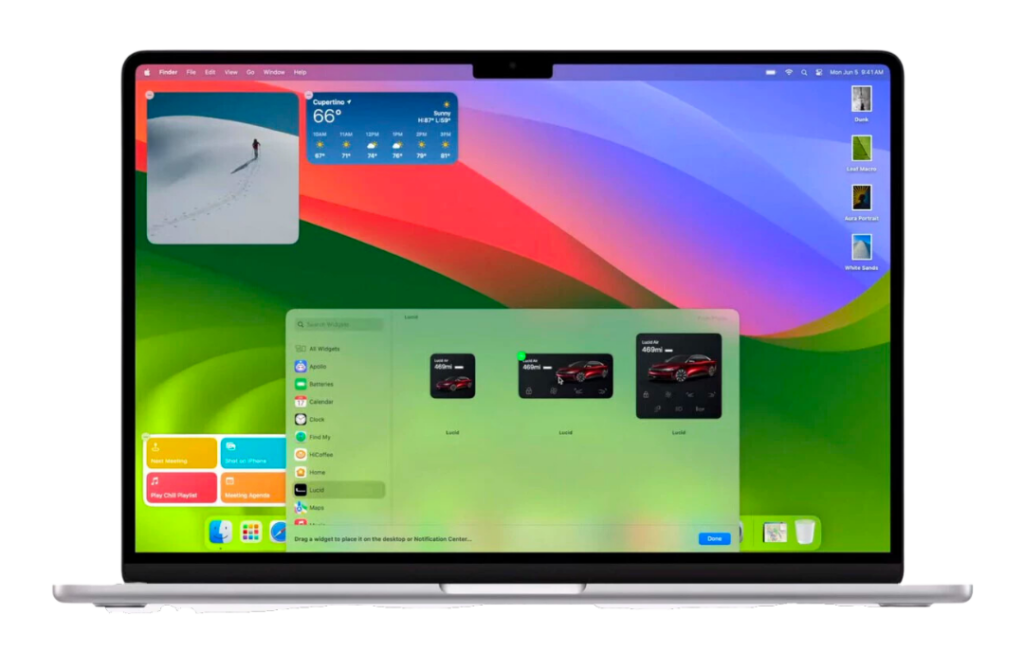 After almost a decade, the Apple Watch operating system is completely transformed with the launch of watchOS 10. This new software version, officially presented by Apple, brings with it a series of functional and visual changes that completely reinvent the smartwatch interface.
One of the most notable new features of watchOS 10 is the much-rumored visual change. Now, the interface allows the inclusion of widgets on any watch face. By simply rotating the crown, widgets appear in a stack format, providing a more fluid and personalized experience.
In addition, watchOS 10 introduces a number of redesigns to the native Apple Watch apps. For example, the 'World Clock' app features a new style that adapts the background color according to the time of day in different time zones. For its part, 'Activity' has added icons in the corners for quick access to relevant information and trophies earned.
Of course, we could not miss the new dials that add a touch of fun and personality to the Apple Watch. Among them, highlights the animated Snoopy, in the classic style of Micky and Minnie Mouse. Also featured is the 'Palette' dial, whose colors change throughout the day, creating a visually dynamic experience.
In terms of training features, watchOS 10 brings significant improvements for cycling activities. It is now possible to connect the Apple Watch to bike sensors via Bluetooth, providing more accurate measurements and new metrics.
Likewise, hiking workouts also receive improvements with two new landmarks that indicate mobile coverage in case of emergency. These features are targeted specifically at the Apple Watch Ultra.
On the other hand, watchOS 10 allows the use of offline maps from the iPhone via the 'Apple Maps' app. In this way, even in areas without data coverage, users will be able to obtain information and navigate with ease.
Along with iOS 17, Apple has added a new emotional health tracker in watchOS 10. It is now possible to record mood and select how we feel, which will allow the watch, through sleep monitoring and other parameters, to offer advice on how to improve our mental health.
With watchOS 10, Apple has taken a revolutionary step in the evolution of the Apple Watch. These new functional and visual improvements provide users with a more personalized and complete experience, reaffirming the position of Apple's smartwatches as market leaders.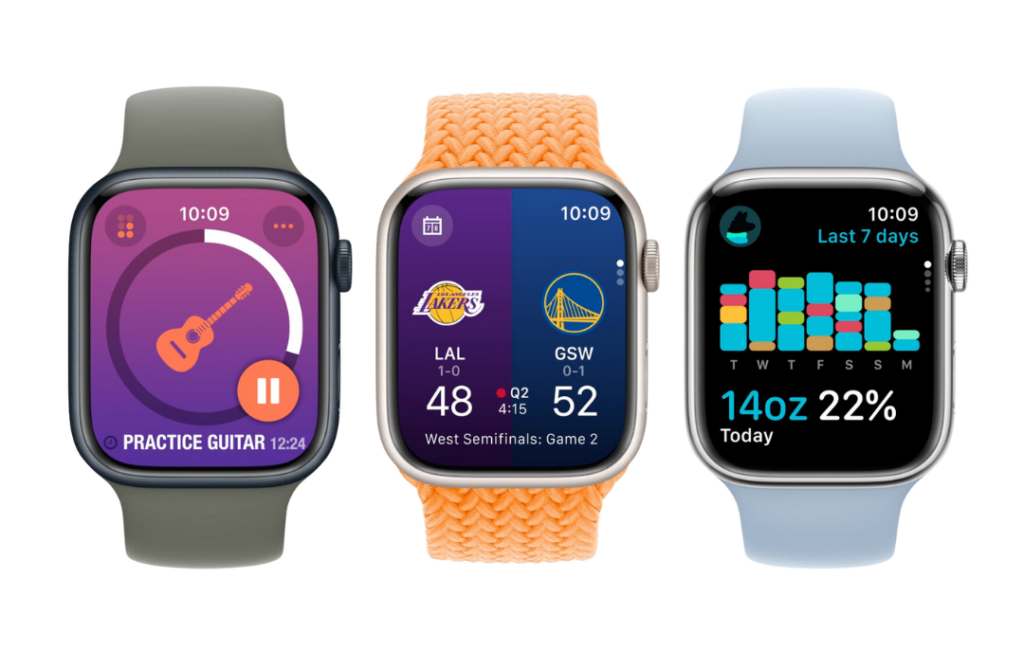 The long-awaited release of tvOS 17 brings with it a number of exciting new features that will completely transform the entertainment experience in our homes.
One of the most prominent features is the revamped control center, which has been redesigned to offer greater interactivity with connected devices. Now, the control center plays a crucial role as a home automation hub, allowing us to control and manage all aspects of our home in a simple and efficient way.
However, the real novelty of tvOS 17 is the addition of FaceTime to Apple TV. Thanks to the continuity function and using the iPhone or iPad camera, it is now possible to enjoy high-quality video calls on the big screen of our TV. This perfect synergy between Apple devices gives us an immersive and connected experience, bringing our loved ones closer no matter the distance. In addition, the Continuity Camera API will also be available to Apple TV developers, meaning that apps like Zoom will be able to take advantage of this functionality and offer rich video conferencing directly from our TV.
tvOS 17 combines the convenience of home automation with the power of video calling on a single platform. With these innovative features, Apple continues to redefine the way we enjoy our entertainment time, creating immersive, connected experiences that bring us closer to what we love.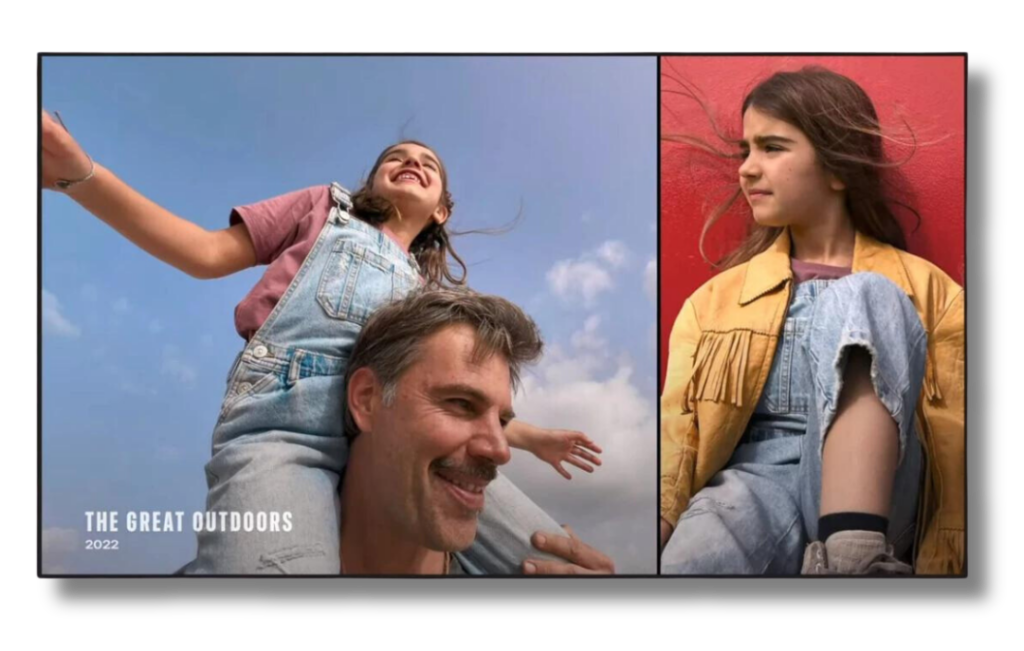 The crown jewel of this year's WWDC was undoubtedly the launch of the Apple Vision Pro glasses.
This innovative device combines elements of virtual and augmented reality to overlay a wide range of digital experiences in the real world. Although technically not conventional augmented reality, Apple has dubbed it "extended reality," taking digital interaction to a new level.
Apple Vision Pro runs visionOS, the world's first spatial operating system, which allows users to interact with digital content in a way that makes it appear physically present in their space. The device features an ultra-high-resolution display system with 23 million pixels spread across two screens, controlled by the user's eyes, hands and voice. Vision Pro offers a variety of extraordinary experiences, such as infinite screen space, immersive entertainment with spatial audio, and the ability to capture and relive memories in three dimensions.
Unlike similar devices, the Vision Pro glasses are not opaque, allowing others to see our eyes and us to see the real environment around us. These glasses offer a number of intuitive controls, such as the digital crown present on the AirPods Max and Apple Watch. They are also equipped with a variety of sensors and cameras for an immersive and accurate experience.
While it is possible to use Mac accessories, such as keyboards, mice, and trackpads, to interact with the Vision Pro displays, Apple has emphasized the use of finger gestures for such interaction. One of the most popular gestures is the pinch gesture. Thus, its user interface, similar to that of macOS and iPadOS, features interactive panels that we can control by sliding our fingers to navigate between menus and resizing windows according to our preferences.
The apps available are the same as those found on iPadOS, iOS, and macOS. This means we can enjoy native apps such as Keynote, FaceTime, Apple TV, and Apple Music, which will appear floating before our eyes in a surprising way.
In terms of hardware, the M2 chip has been modified to ensure silent operation, thus surpassing the experience of the iPad and Mac where it is present. In addition, a new chip called 'R1' has been incorporated, which processes images with low latency, displaying up to 9 frames per second and avoiding the occurrence of motion sickness.
You may wonder how video calls can be made without a camera pointing directly at the face. The answer lies in the 3D facial registration system, similar to Apple's Face ID. This system captures thousands of reference points of the face, allowing a virtual avatar to be generated for use in video calls.
It is important to note that the Vision Pro does not have Face ID, but rather 'Optic ID', an advanced iris recognition system that allows the glasses to distinguish the original owner.
To highlight some limitations, we could say that, although Apple places special emphasis on the multipurpose use of these glasses, the reality is that their use is limited to enclosed spaces, such as those at home and in the office.
With an impressive technical spec sheet and a carefully designed user interface, another main obstacle for these glasses could be their price. Apple has confirmed that the Vision Pro will cost $3,500 (around €4,000 with taxes and currency exchange) and will be available early next year.
Also, it is important to note that the battery life is only two hours, and some of the processing is done on an additional device that must be worn on a belt or in a pocket. To watch a movie, it is necessary to connect the glasses to an external battery or directly to a power adapter with a USB-C output, which reduces their portability.