We are thrilled to announce the latest updates to Applivery, designed to enhance your device management experience and ensure the smooth operation of your fleet. With a focus on software updates management, improved battery monitoring, asset management, and bug fixes, we're confident that these features will streamline your workflows and provide greater control over your devices. Let's dive into the exciting new additions!
Improved Software Updates Management
A powerful software updates management is one the most important concepts in Device Management so ensure a fleet of healthy devices.
Now, admins will find a useful card under device summary screen that will display all pending updates.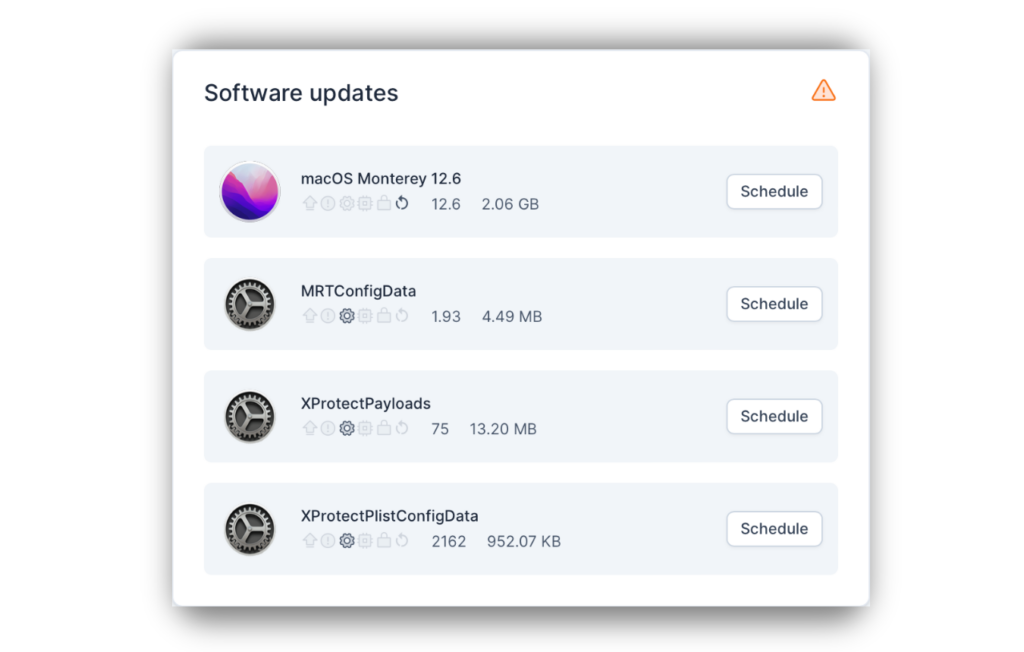 A set of useful icons will help easily identify the update requirements and attributes:
Major updates
Critical updates
Config data updates
Firmware updates
Security response
Restart required
When clicking "Schedule", admins will be able to choose from all update modes available:
Default: download or install the update, depending on the current state.
Download only: download the software update without installing it.
Install ASAP: Download the software update and trigger the restart countdown notification
Notify only: Download the software update and notify the user through the App Store
Install later: Download the software update and install it at a later time. Admins will be able to also define the number of times the user can postpone the update.
Install force restart: Perform the default action and then, force restart if the update requires it.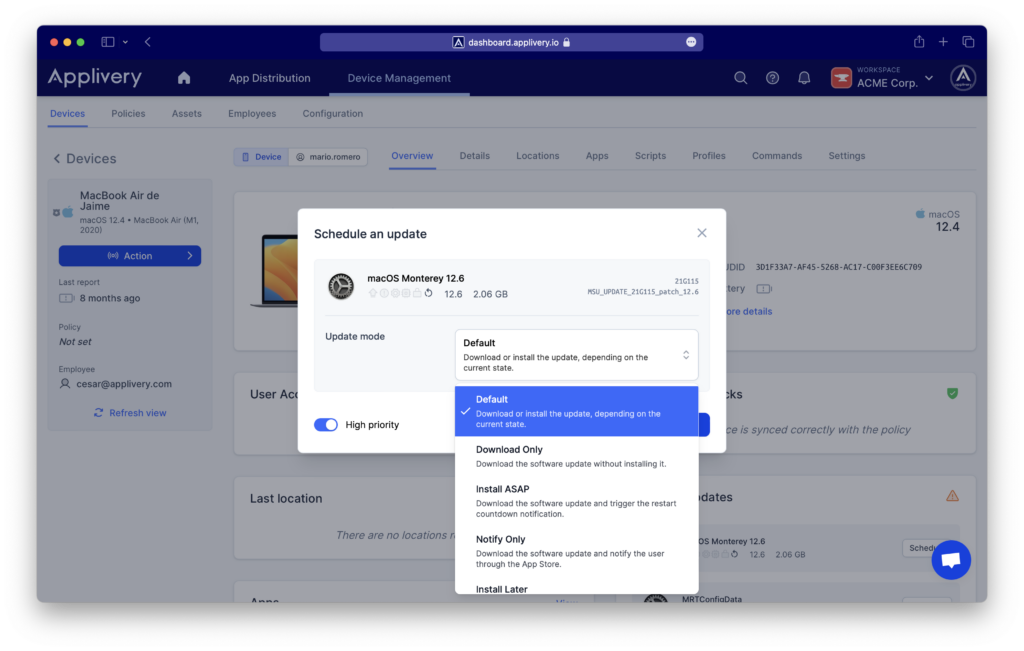 In the case of macOS, admins can also mark the update as "High priority" to scheduling priority for downloading and preparing the requested update.
New Battery Level and Compliance Status Charts
Applivery Device Management users will now be able to easily identify devices at risk due to a low level of battery or compliance issues. Two new charts have been added to the "Overview" dashboard.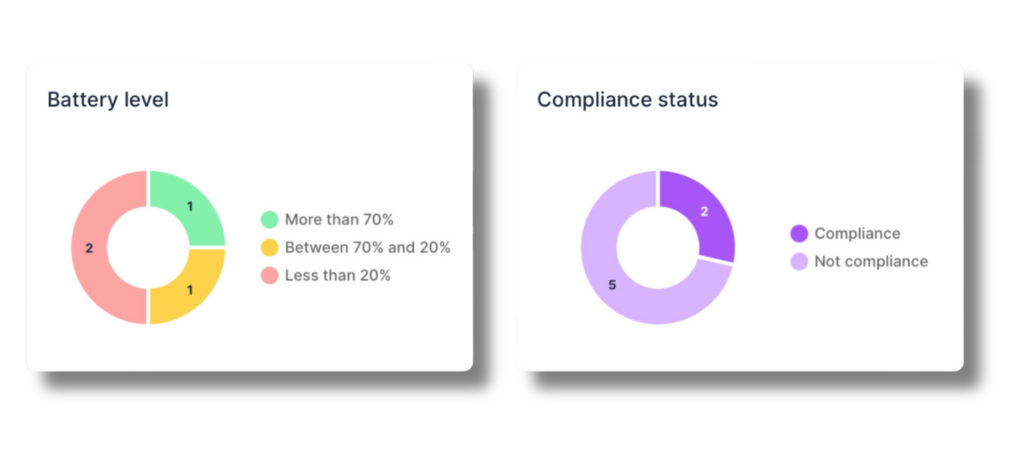 Make sure to enable these new chart cards by clicking "Customize" and then enabling the different cards with the switch button.
Delete and Download of Assets​
Assets (Apps, Books, Packages) have become an important element in the Apple Device Management ecosystem. Admins can now multi-select assets to be deleted from the Assets sections while the platform will prevent deletion of assets assigned to devices or policies. It is also possible now to download existing assets from the Applivery Assets Dashboard: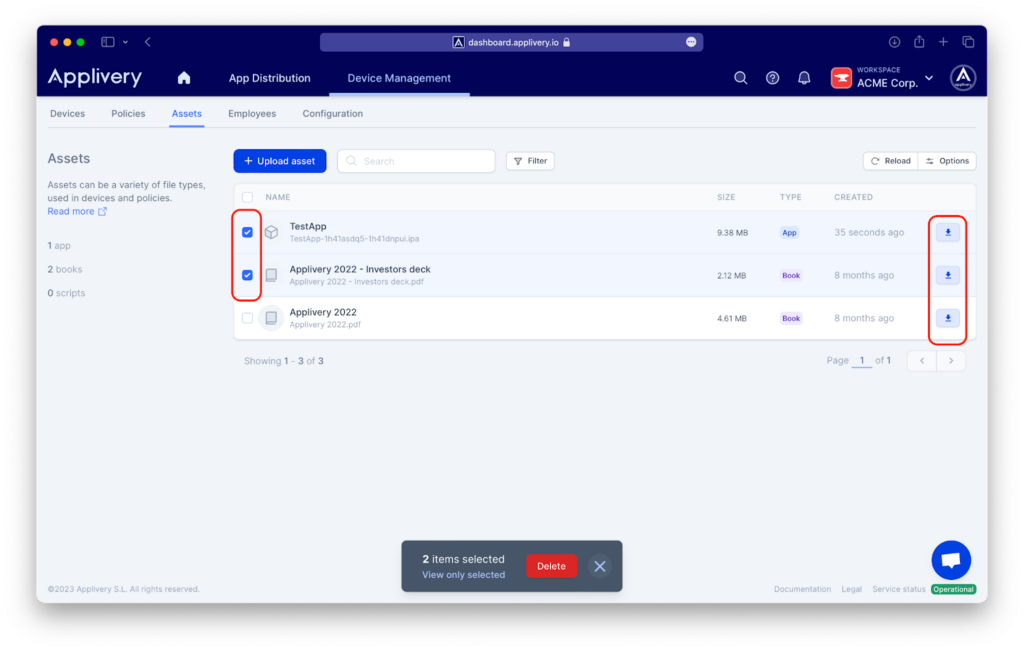 Fixed a bug that requested monitoring on Android devices, where this case does not apply.
Installation options have been limited in the execution of major updates in macOS to comply with the specification.
Other small bug fixes and improvements, including new help tooltips and expiration notice alerts for certificates that are close to the expiration date.