Welcome to the latest update from Applivery! We are excited to introduce two new powerful features that will elevate your Android device management experience: Android Kiosk & Advanced Launcher and Display Devices on a Map. Additionally, we have resolved some bug issues for smoother navigation. Let's dive into the details.
Android Kiosk & Advanced Launcher
Applivery's Kiosk & Advanced Launcher replaces the native kiosk launcher, enabling admins with extended customizations such as deploying custom Wallpapers or password protected Settings (through passwords) and also defining the list of allowed apps that the users will be able to open, from among all the applications installed on the device.
It also comes with all other standard features like enabling/disabling access to Settings, power button and status bar behaviour or system navigation preferences.
Applivery's Advanced Launcher relies on Android managed properties to instantly deploy changes to all devices at the same time, ensuring a consistent configuration.
Start enabling it from your policies, under Kiosk > Launcher and then switching on "Enable Advanced launcher" option.
Device Management admins can now display the list of devices in a map view so that they are easy to locate geographically. A fully featured map view that zooms in and out based on the available devices and provides all the relevant information about the devices at a glance, offering accurate information about the last reported geocoded information and battery level.
Through the Action menu, admins will be able to trigger common actions such as Lock, Erase or Enable lost mode, among others.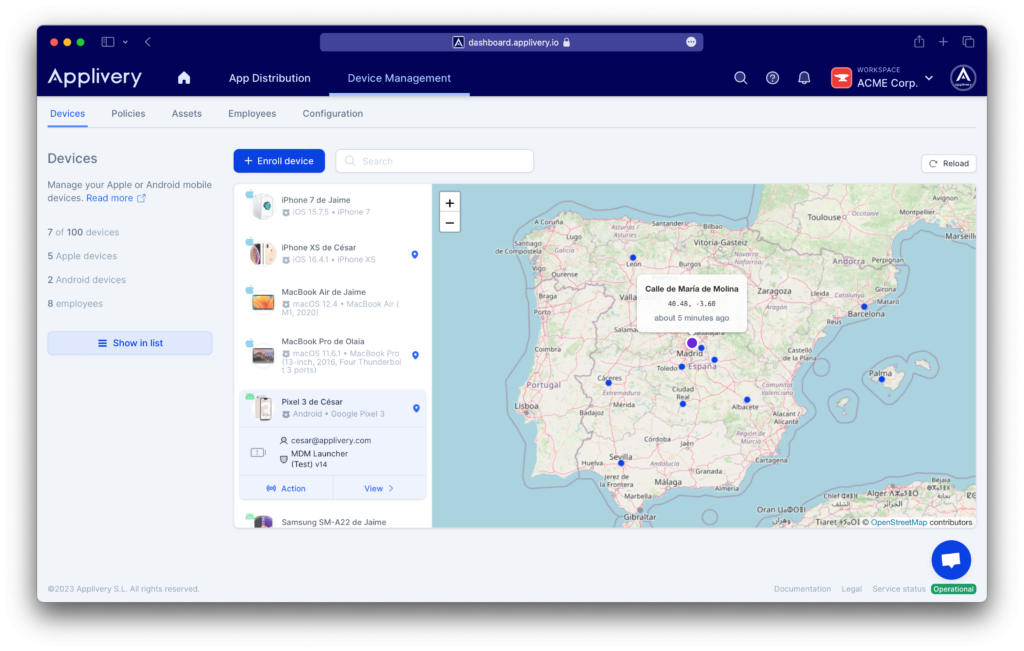 Note that you must enable Applivery's Android Agent to start collecting the device's geolocation. You can read more about it here.
Delete user actions were not working correctly in the People section when selecting multiple users at the same time.
Delete policy actions were not working correctly in the Policies section when selecting multiple policies at the same time.
The "Actions" button displayed on each device's detailed view was not displayed correctly or could be partially hidden on mobile devices.
Network usage analytics were not properly displayed when clicking WiFi filter