Imagine simplifying the often intricate task of configuring devices for your organization with just a few clicks. Well, your wish has been granted with the introduction of Policy Templates, a game-changing feature designed to streamline and simplify the creation of device configuration policies.
In this blog post, we'll explore the world of Policy Templates, which have been expertly crafted by our team to cover the most common configurations requested by our customers. Whether you manage Apple (iOS and macOS) or Android devices, Policy Templates are here to make your life easier. Let's delve into the details.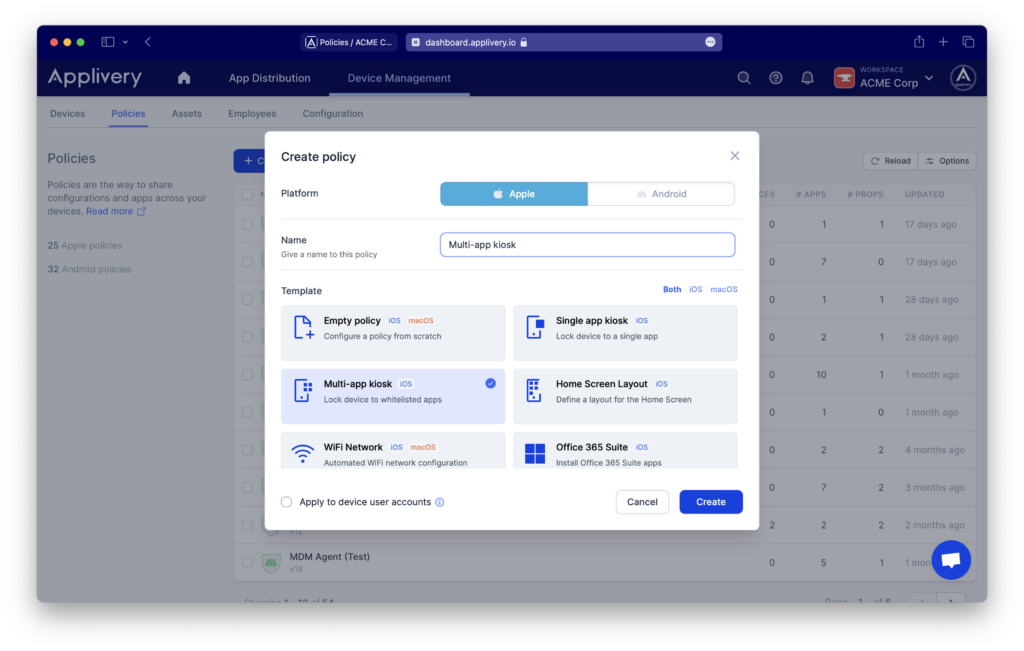 Unlock the Power of Policy Templates
Policy Templates represent a breakthrough in device management, offering a hassle-free way to configure devices with pre-designed templates. Here's what you need to know:
1.Universal Availability: This feature is available for both Apple and Android devices, catering to a wide range of users and licenses. It ensures that everyone can benefit from simplified device configuration.
2. Diverse Templates: Our catalog of Policy Templates is constantly expanding. Among the templates, you'll discover configurations for:
Kiosk Mode: Set up devices for dedicated purposes efficiently.

Application Suites: Easily deploy suites like Office 365 or Google Workspace.
Network Configurations: Ensure seamless connectivity.
Security and Restriction Modes: Safeguard your devices and data.
Web Apps Configuration: Simplify web app deployment.
And much more!
3. Continuous Growth: We are committed to enhancing our catalog daily, thanks to your valuable contributions and the expertise of our team. If you have specific needs not covered by existing templates, don't hesitate to reach out to us, and we'll work on creating the template you require.
While Policy Templates simplify the configuration process, we understand that some users may have unique requirements. That's why you can always choose to create your policies from scratch, ensuring that your configurations are tailored precisely to your organization's needs. Just select "Empty policy," and you're ready to start crafting your custom policies.
We value your feedback and aim to provide you with the best possible device configuration experience. If you find that a specific template is missing, or if you have ideas for additional templates, please don't hesitate to let us know. Our dedicated team is always ready to listen and improve our offerings to better serve you.
How Applivery Can Revolutionize Your Workflow
Policy Templates represent a significant step forward in simplifying device configuration. By harnessing the power of pre-designed templates, you can save time, reduce complexity, and ensure consistency in your device management processes. Whether you need to set up devices for kiosk mode, deploy application suites, configure networks, or enforce security measures, Policy Templates have got you covered.
As our catalog continues to grow, you'll find an ever-expanding array of templates to suit your needs. And if you have unique requirements, remember that you can still create custom policies from scratch.
Make the smart choice and embrace Policy Templates to streamline your device configuration processes today. Efficiency and simplicity are just a few clicks away!