It has become a tradition for Apple to refresh its iPhone lineup every year, introducing four main models. On September 12th, the highly anticipated Apple Event took place, unveiling the new generation of iPhone 15. Among these, the more "modest" models are the iPhone 15 and 15 Plus, which can be considered the younger siblings of the iPhone 15 Pro and 15 Pro Max.
While it's true that we are in a phase where groundbreaking innovations are not expected, today's announcements have indeed brought advancements that make this iPhone evolve compared to the previous model. Some of these changes were already circulating in the rumor mill.
These two devices arrive alongside their larger siblings, the iPhone 15 Pro and iPhone 15 Pro Max. The primary differences lie in their aesthetics, as they are constructed from titanium, feature the new A17 Bionic chip (which the iPhone 15 won't have), and come with substantial camera improvements.
Technical Specifications of iPhone 15 and iPhone 15 Plus
Dimensions and Weight: iPhone 15: 14.76 x 7.16 x 0.78 cm, weighing 171 grams. iPhone 15 Plus: 16.09 x 7.78 x 0.78 cm, weighing 201 grams.
Colors: Both models are available in rose, yellow, green, blue, and black.
Display: Super Retina XDR with a resolution of 2,556 by 1,179 pixels at 460 ppi, featuring HDR and Dynamic Island.
Processor: Apple A16 Bionic.
RAM: To be determined.
Storage: 138/256/512 GB.
Front Camera: 12 MP TrueDepth camera with an ƒ/1.9 aperture.
Rear Cameras: Primary: 48 MP, ƒ/1.6 aperture. Ultra-wide: 12 MP, ƒ/2.4 aperture, 120° field of view. Telephoto x2: 12 MP, ƒ/1.6 aperture.
Video: Recording in 4K at various frame rates, including 24, 25, 30, and 60 fps.
Battery: iPhone 15: Up to 20 hours of video playback, up to 80 hours of audio playback. iPhone 15 Plus: Up to 26 hours of video playback, up to 100 hours of audio playback.
Software: iOS 17.
Connectivity: USB-C, 5G (sub-6 GHz), LTE Gigabit MIMO 4×4, satellite connectivity, WiFi 6 MIMO 2×2, Bluetooth 5.0, UWB chip, NFC, GPS, GLONASS, Galileo, QZSS, BeiDou, NanoSIM, and eSIM.
Other Features: IP68 water resistance, Face ID, stereo speakers, Dolby Atmos.
Price: Starting from 959 euros for iPhone 15 and 1109 euros for iPhone 15 Plus.
Design and Display: The Arrival of Dynamic Island and the Farewell to the Lightning Port
One of the most anticipated features in the iPhone 15 is the arrival of Dynamic Island, a year after its debut on the Pro models. This feature eliminates the screen notch and allows for the integration of informative cards, such as incoming calls and notifications, directly into the display, providing a smoother and more modern experience.
Another significant change is the adoption of the USB-C port, marking the end of the Lightning connector era. This transition not only simplifies connectivity but has also been noted for the inclusion of braided cables, suggesting increased durability.
Regarding the displays, while there are no radical changes, both offer exceptional quality with Super Retina XDR technology and a maximum brightness of 2,000 nits, ensuring a stunning visual experience. The screen size is 6.1 inches for the iPhone 15 and 6.7 inches for the iPhone 15 Plus.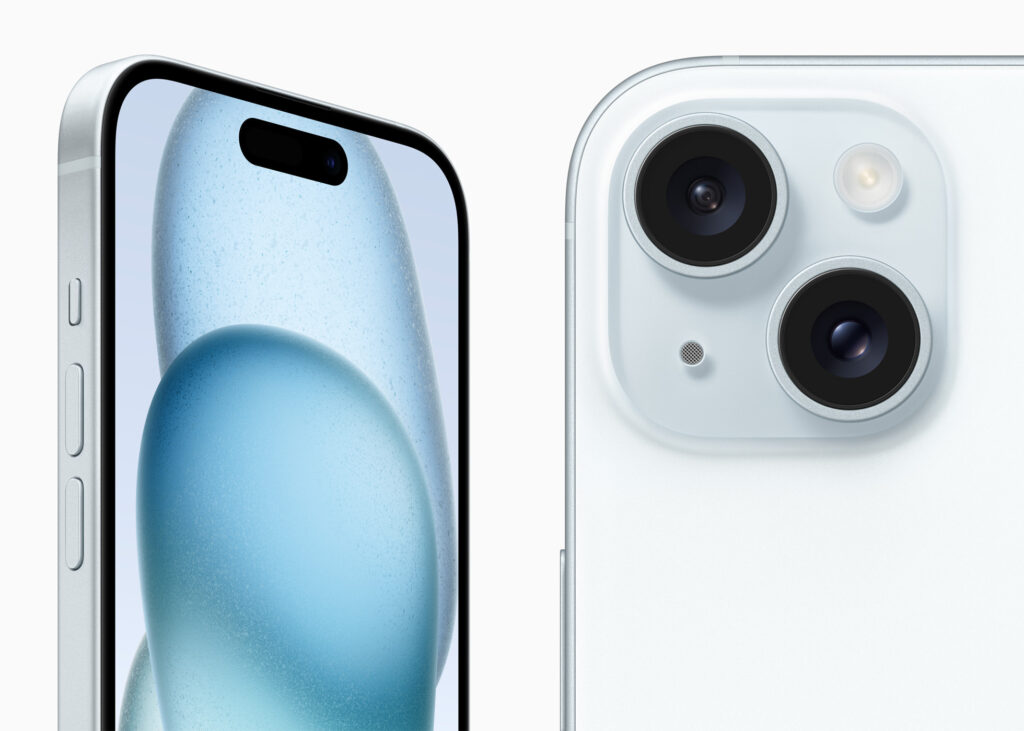 Performance and Battery Life: The Continuation of the A16 Bionic Chip
In terms of performance, the iPhone 15 retains the A16 Bionic chip introduced in the previous generation. While this processor is powerful, some were expecting a significant upgrade in this regard. However, this choice allows the iPhone 15 to further differentiate itself from the 'Pro' series and offers advantages to users seeking high-performance devices at a more affordable price.
This decision also has a direct impact on battery life, as the hardware is similar to the previous model, and a significant increase in energy efficiency is not expected.
On the other hand, the 'Pro' models, namely the iPhone 15 Pro and iPhone 15 Pro Max, have taken a step forward by incorporating the new A17 Pro chip, which offers superior performance and faster data transfer speeds thanks to the USB-C port.
Competitive Pricing: A Pleasant Surprise for Consumers
A positive piece of news for consumers is that the prices of the iPhone 15 have decreased compared to the previous generation. This means that users can access the latest Apple technology at a more affordable cost. The starting prices for the iPhone 15 begin at 959 euros, while the Plus models start at 1109 euros. With various storage capacities available, consumers can choose the option that best suits their needs and budget.
Revolutionary Design and Unmatched Power: iPhone 15 Pro and Pro Max
While the iPhone 15 and 15 Plus offer several notable improvements, the Pro models take the experience a step further. With a sleek and durable titanium finish, these devices are lighter and more robust. Additionally, they introduce a customizable action button that expands user interaction possibilities.
The screen of the iPhone 15 Pro and Pro Max maintains Super Retina XDR quality with impressive resolution and brightness. However, the real innovation lies in the A17 Bionic processor, the industry's first with three nanometers, making it one of the most advanced chips on the market. The CPU and GPU performance is exceptional, and the Neural Engine is 16 times faster than the previous generation.
Regarding photography, these models offer a 48 MP rear camera with advanced image capture and editing capabilities. Recording video in ProRes 4K at 60 FPS is a standout feature, and the "spatial video" function promises a unique viewing experience.
Prices and Availability of iPhone 15 Pro and Pro Max
The iPhone 15 Pro and Pro Max have also seen a reduction in prices compared to the previous generation. Initial prices for the Pro models start at 1,219 euros for the iPhone 15 Pro and 1,469 euros for the iPhone 15 Pro Max. These devices will be available for pre-orders starting September 15th, with deliveries beginning on September 22nd.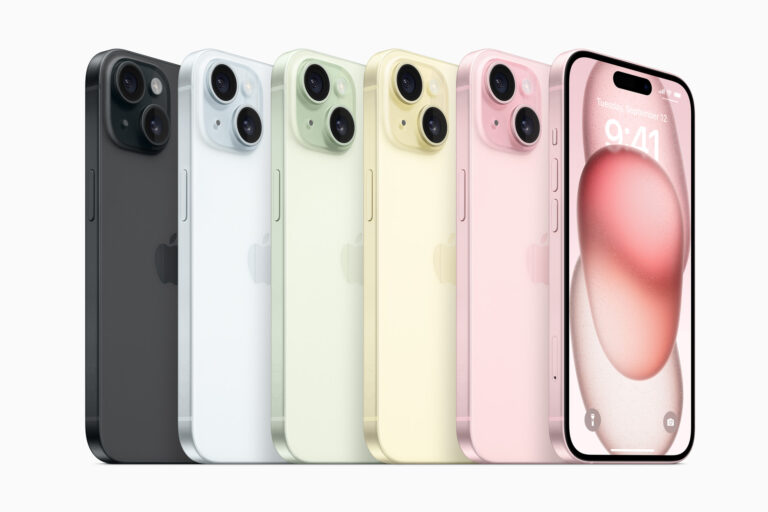 With the launch of the iPhone 15, Apple continues to offer innovation and quality in its product lineup. While it may not represent a revolutionary leap, the changes in design, connectivity, and power make these devices worthy successors to the iconic iPhone series. With more competitive prices and options for all preferences, it's certain that the iPhone 15 and iPhone 15 Plus will become the most coveted devices of the year.