Exciting news for IT pros and mobile device managers! Applivery has just launched some game-changing updates to make your life easier. Our new features include exporting user lists to a CSV file, a configuration wizard for single and multi-app kiosk modes, a sleek lost mode view, advanced app distribution, and more. These improvements are designed to streamline your mobile device management and maximize your productivity.
Facilitating the Selection of the Installation Type
Now, when adding applications to the list of apps in a policy, the installation type will be automatically selected, thus speeding up the process.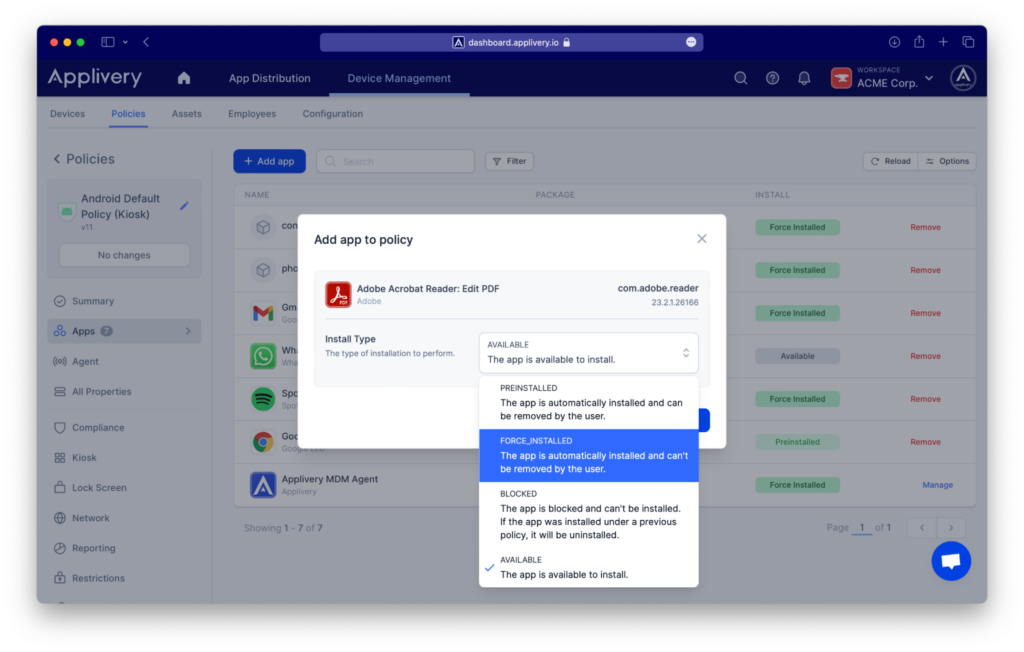 Administrators can now easily export the entire list of users, collaborators or employees, to a CSV file from the Options menu.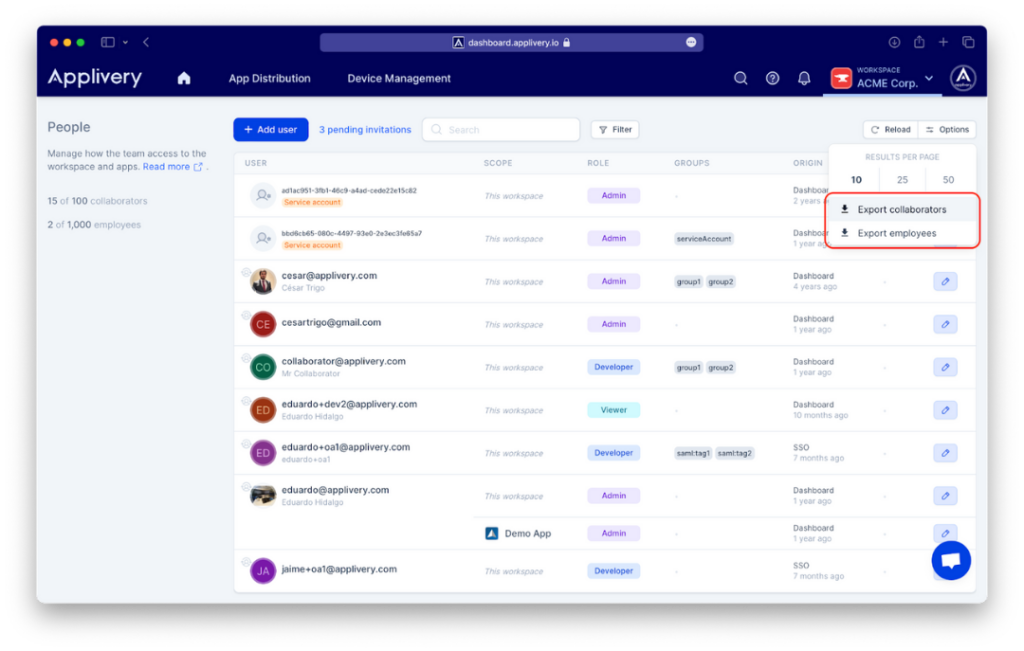 New Single-App and Multi-App Kiosk Configurations
A brand new Single-App and Multi-App kiosk modes configuration wizard has been developed to simplify configuring these modes in Android devices. A new friendly user interface will guide IT admins, providing a preview of what users will see in their devices at all times.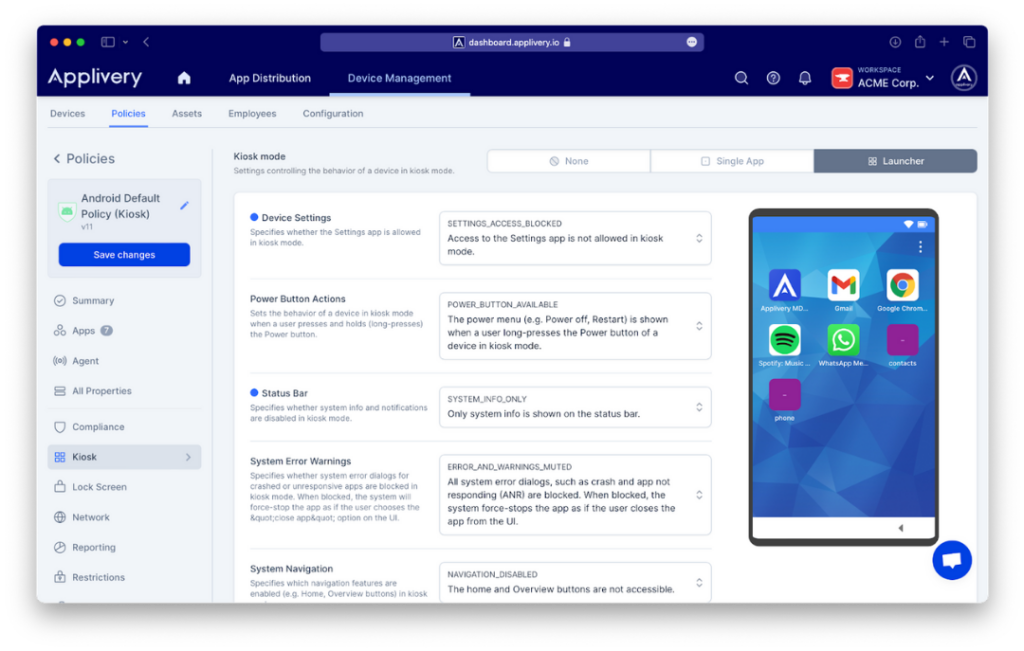 One of the main functionalities in the management of mobile devices is the activation of the lost mode, which allows not only to lock the device but also to play sounds to make it easier to find it or obtain its location. A new display of devices in lost mode is now available, providing a much more direct access to these functionalities, facilitating the management of administrators in these scenarios.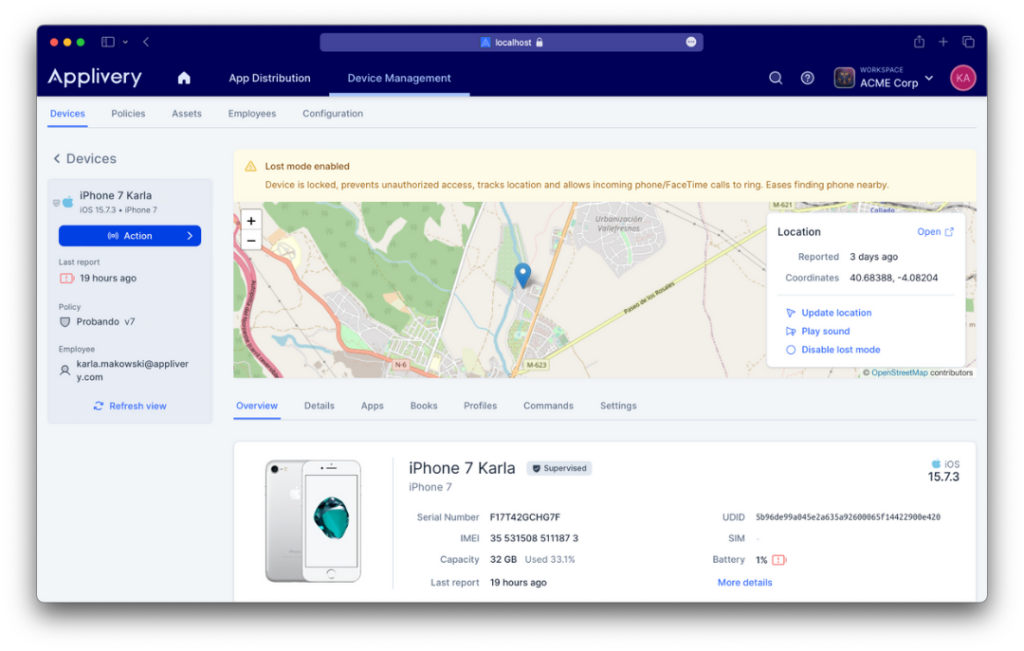 Advanced App Distribution
Until now it was possible to distribute Applivery App Distribution applications to managed devices thanks to the communication between both products. Recently we have improved this connection allowing not only to select an app (an .ipa) but also to take advantage of all the capabilities already included in Applivery App Distribution to distribute versions based on Tag, Git Branch, Git Tag or even to always distribute the latest available versions of an app.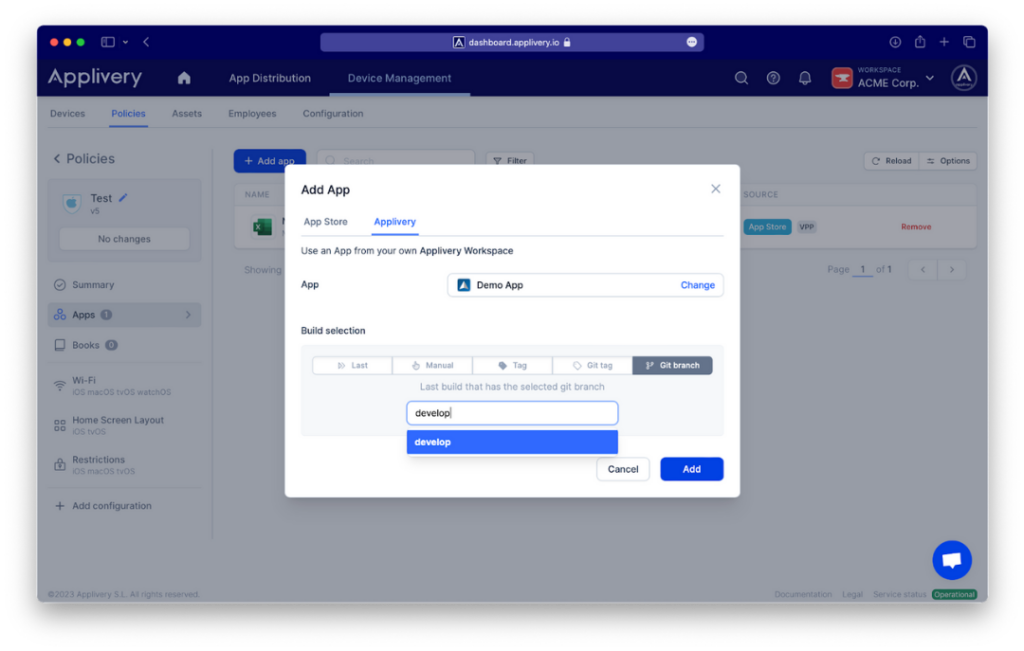 Fixed a bug that prevented selecting multiple items in the list of devices when associating an ABM license.
Fixed a bug that prevented loading the modal window when creating a new enrollment template.
A number of improvements have been made to prevent a known Safari bug preventing the selection of personal certificates.
Other minor bugs have been fixed and new stability improvements have been added.
Rearrangement of Android Policies
Android Policies are now rearranged into 8 new sections that better aggregate properties, restrictions and management features by category, helping IT admins configure devices more quickly. Read more about
Android Policies Rearrangement
.
We continue to work on improving our device management products. Soon you will see generally available the following features that we have been piloting in private beta.
Apple Device Management Agent
Scripts execution in Mac devices
Additionally, it will soon also be possible to manage mac packages (PKG) through Applivery App Distribution, making it much easier to maintain packages on your mac devices.