We are thrilled to announce the latest update from Applivery, introducing Smart Enrollments – a powerful tool for automating device enrollment based on user and device data. With custom workflows for unattended enrollment, IT operations can be streamlined, saving valuable time and resources. Additionally, combining Smart Enrollments with Policy Templates can simplify configuration even further. Two-factor authentication has been added to enhance security, and enrollment can now be automated with Google Workspace Authentication. We invite you to explore these improvements for efficient device management and experience the benefits of this innovative solution.
Have you ever dreamed of automating 100% the device enrollment process and creating conditional policy assignment experiences?
You can now do that and much more with the launching of Smart Enrollments, a new powerful way to fully automate device enrollment and provisioning based on user and device data. With Smart Enrollments you can create customized and conditional workflows that will help IT admins better manage device enrollment in a fully unattended way enrollment experiences, streamline IT operations and reduce costs.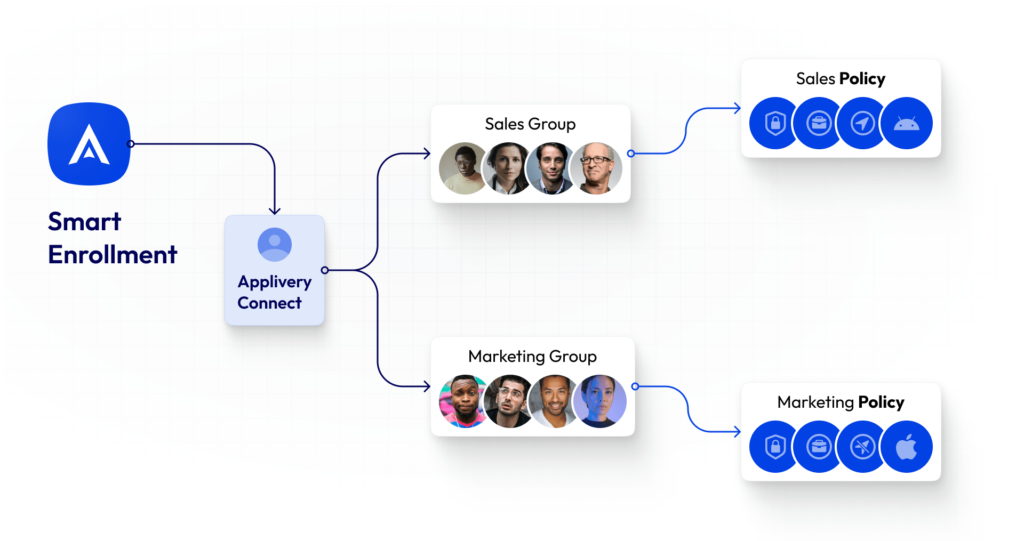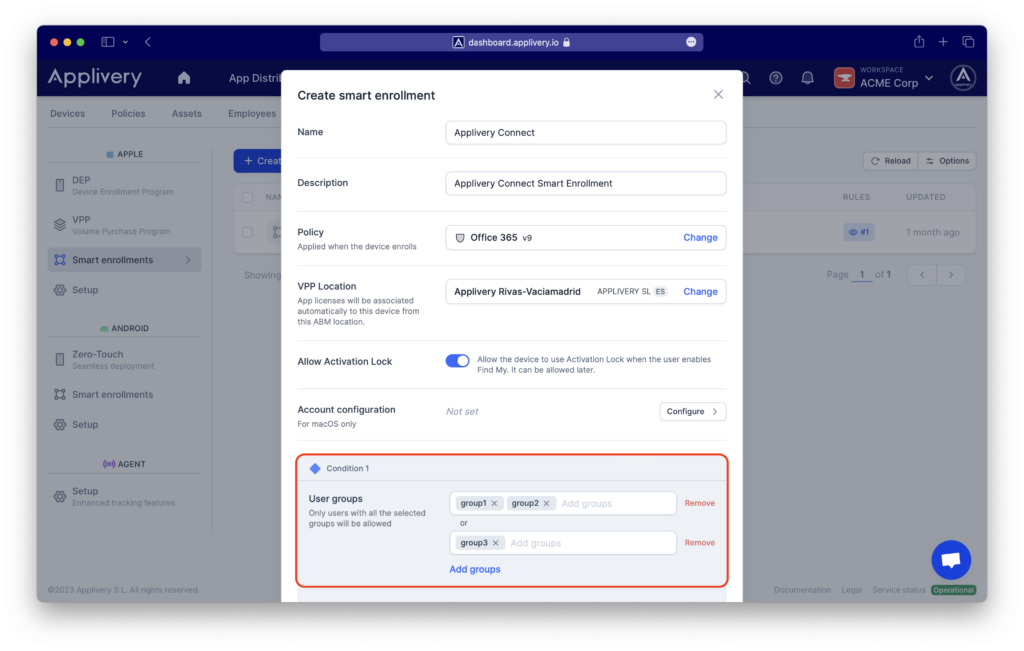 We announce the launch of Policy Templates, a new way to streamline and simplify the creation of device configuration policies through predesigned templates by our experts with the most frequent configurations that we see in our customers. This new feature is available for both Apple (iOS and macOS) and Android devices for all users and licenses.
Among the new templates you will find multiple kiosk mode configurations, application suites such as Office 365 or Google Workspace, network configurations, security and restriction modes, web apps configuration and much more. The catalog is growing every day with your contributions and the creations of our experts.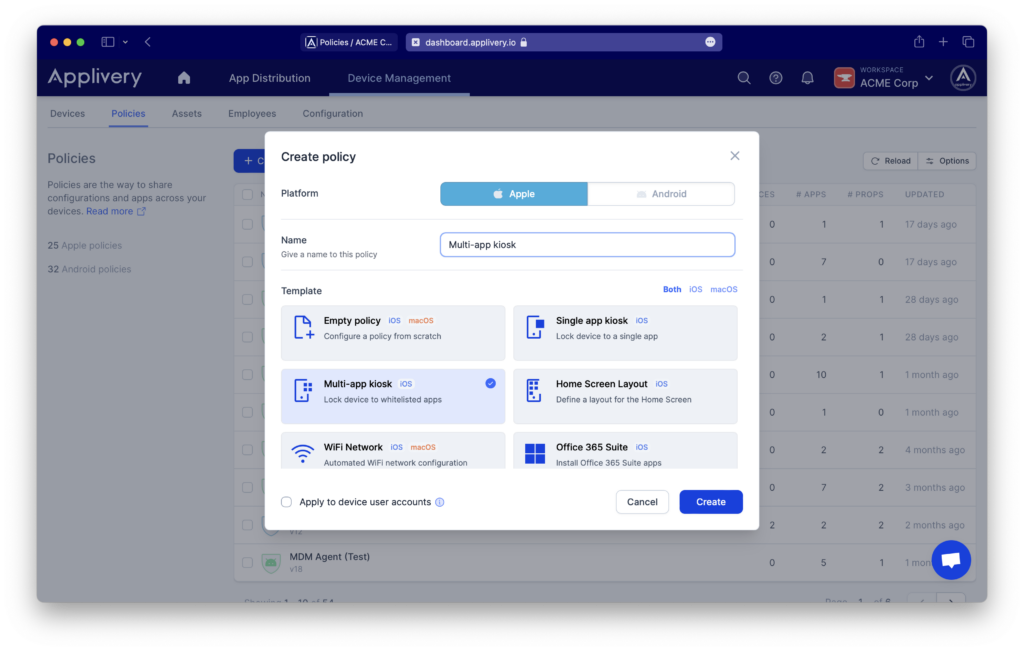 Of course, you can still create your policies 100% manually by selecting "Empty policy".
If you miss any template, don't hesitate to let us know and our team will work on it!
Two Factor Authentication (2FA)
Two-factor authentication (2FA) is an extra layer of security used when logging into websites or apps. With 2FA, you have to log in with your email and password and provide another form of authentication that only you know or have access to.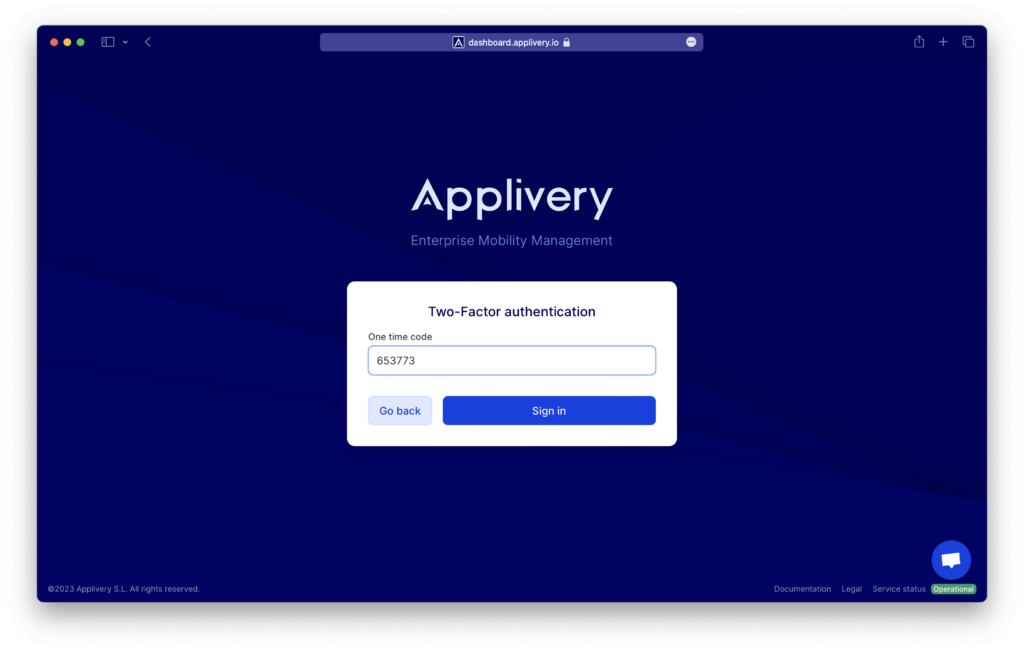 In our constant commitment to ensure the security of your devices and applications Applivery now supports enabling 2FA in all email and password authentication processes, and this new feature is generally available to all users and licenses.
We strongly recommend you to activate this new feature that will help you protect your data.
You can read more about how to start enabling it in your account here.
Google Workspace Authentication during Apple and Android device enrollment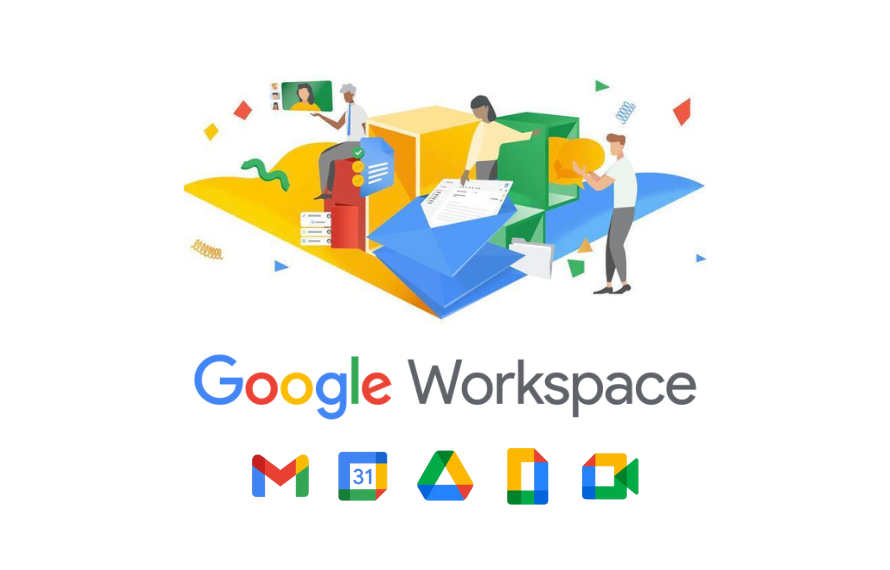 You can now automate your devices enrollment a bit more by integrating Google Workspace Authentication so that your employees can use their corporate credentials to enroll their devices.
After a successful authentication, Applivery will securely connect with your Google Workspace users directory and will use the user information to conditionally enroll the device, assign policies and tailormade the configuration experience for the end-user.

You can read more and discover how to start using this new integration here.
Improved visualization of the Home Screen Layout in policy overview.
A number of helpers and shortcuts have been added to facilitate consistency when configuring application locks, web clips, and home screen layouts together, avoiding configuration errors.
Admins can now customize the no-reply email address that is included in all notification emails sent on behalf of the organization. It can be changed under Workspace > Settings > Basic.
Web Clips creation UI has been rewritten to make it easier to use Android policy properties are now more descriptive and clear.
You can now chronologically view all script executions that have been performed on a device.
Received data and transmitted data values are now split in the Network usage view.
Script outputs are now displayed in a friendly console-like view so that you can easily explore the results of a script execution.