Applivery is a cloud-based SaaS Unified Endpoint Management (UEM) solution that combines everything you might need to fully manage your Apple and Android apps and devices under the same platform, regardless of whether you will use it to manage the corporate mobility of your company, manage applications in development or beta testing or build your the Enterprise App Store of your organization.
Applivery adapts to each use case based on your needs through 3 different tools:
It is very easy to start using Applivery so, let's get started.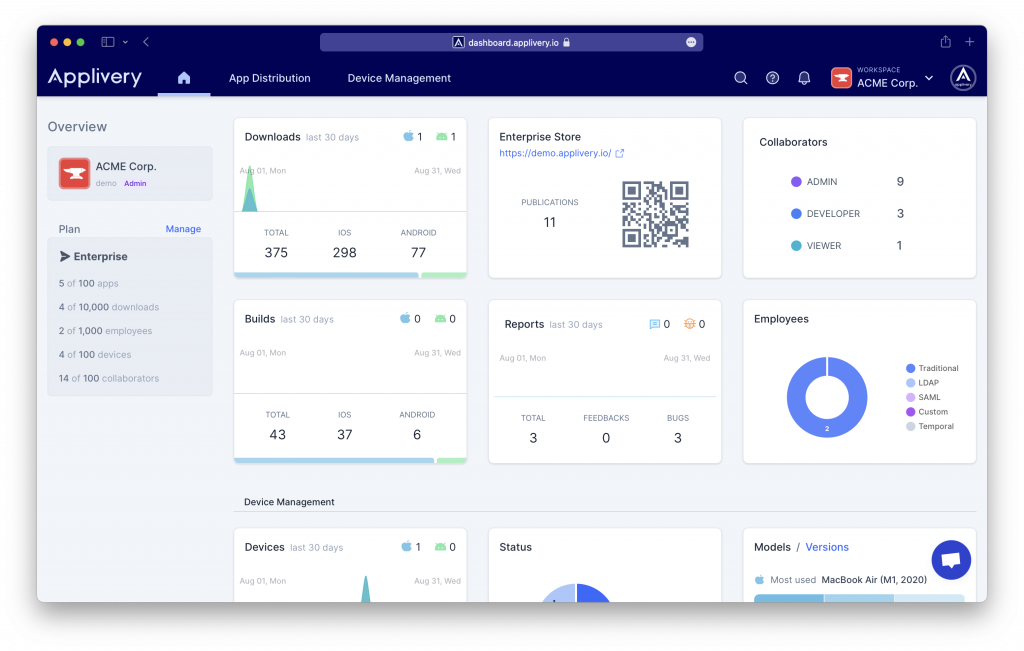 The Applivery Dashboard is the place where you and your team will administer everything related with the management of your Devices and distribution of Apps. You can find it under https://dashboard.applivery.io. Users of the Dashboard are named "Collaborators" of your projects and they may have administration or development permissions over the different elements.
The user interface of Applivery Dashboard consists of the following key elements:
Workspace

menu on the very left side of the screen is the menu that will allow you to jump between the different worskapces you have access to. It also displays your profile area where you can customize your preferences.

Main menu

on the left side, is the menu for navigating around Applivery features.

Search and Help

 on the top of your screen, is the place where you will find the search box and direct links to the help center and support.

Content are always in the center of the screen that consist of actual content. In some cases, the content area may contain either vertical or horizontal sub-menus as an additional navigation level.
The Enterprise App Store #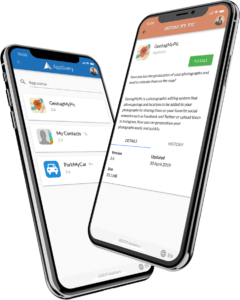 The Applivery App Store represents your Enterprise App Store and is the place where your Apps will be displayed for your end-users. It's a web-based app store that supports many different security configurations and is fully customizable to easily adapt to your company branding.
You will have full control over the Apps that are displayed under your App Store, enabling an endless list of use cases that go from enterprise app distribution to beta testing scenarios. Although it has been created for those cases in which the user's devices are not being managed by Applivery, it can also be easily combined with Mobile Device Management scenarios.
In addition to this introduction, We highly recommend you to take a look to the Main concepts of the platform that will provide you additional context of the most important concepts and entities of Applivery.