Two-factor authentication (2FA) is an extra layer of security used when logging into websites or apps. With 2FA, you have to log in with your email and password and provide another form of authentication that only you know or have access to.
For Applivery, the second form of authentication is a code that's generated by an Authentication App (also know as "time-based one-time password app" or TOTP) such as Google Authenticator (iOS / Android) or Microsoft Authenticator (iOS / Android). After you enable 2FA, Applivery Dashboard and App Store will require you to enter a one-time code generated by your Authentication App. The only way someone can sign into your account is if they know both your email + password and have access to the authentication code on your phone.
After you configure 2FA, using a time-based one-time password (TOTP) mobile app, or via text message, you can add a security key, like a fingerprint reader or Windows Hello. The technology that enables authentication with a security key is called WebAuthn. WebAuthn is the successor to U2F and works in all modern browsers. For more information, see "WebAuthn" and "Can I Use."
How to enable two-factor authentication in your account #
Login-in into your account by using your email and password. Then go to Account > Security.
Under Two-Factor Authentication section, click Enable 2FA  button.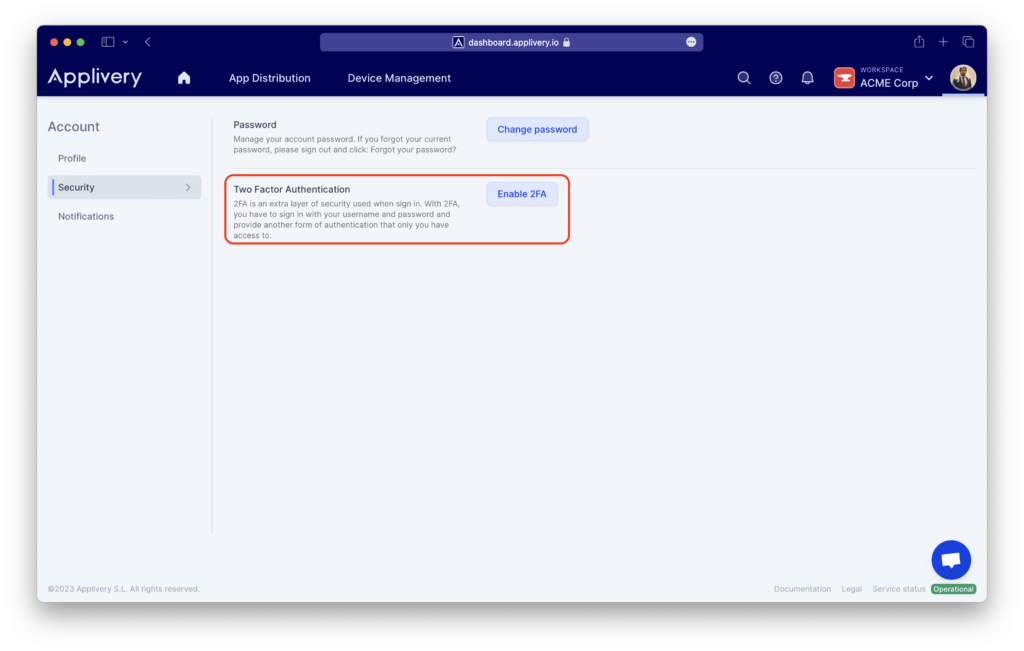 Now, open your (TOTP) app and scan the QR code 2. If you can't scan the QR, you can use the alphanumeric code that will be displayed beside the QR.
A new entry named as Applivery: [email protected]" will appear in your Authenticator app and will start generating one-time codes. Now introduce the cod 3.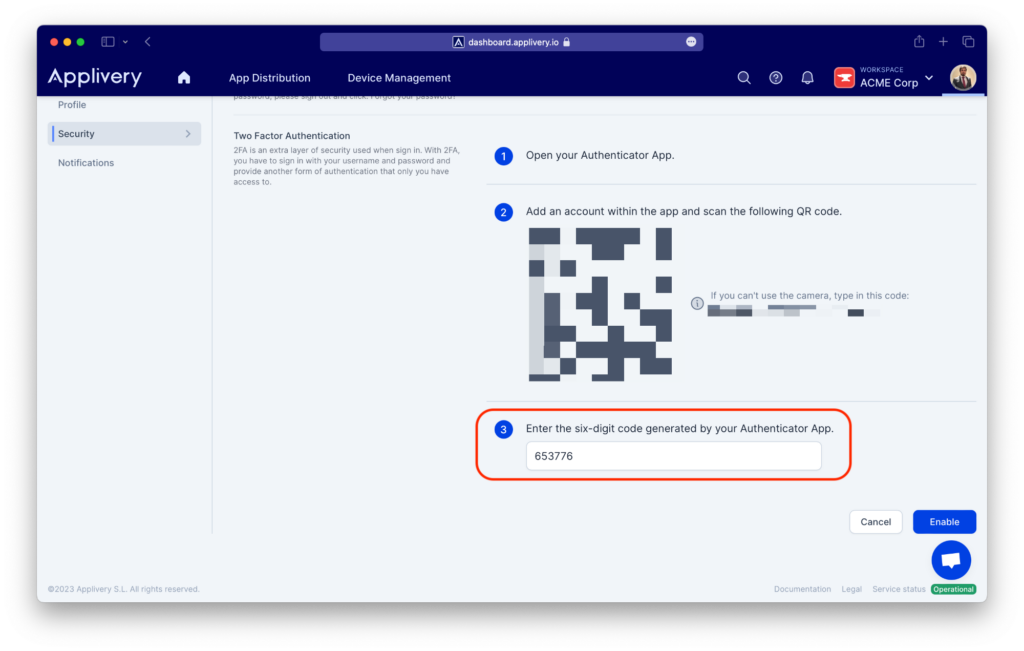 Last, click
before the code expires to activate 2FA in your account. A success message will confirm that it has successfully been activated.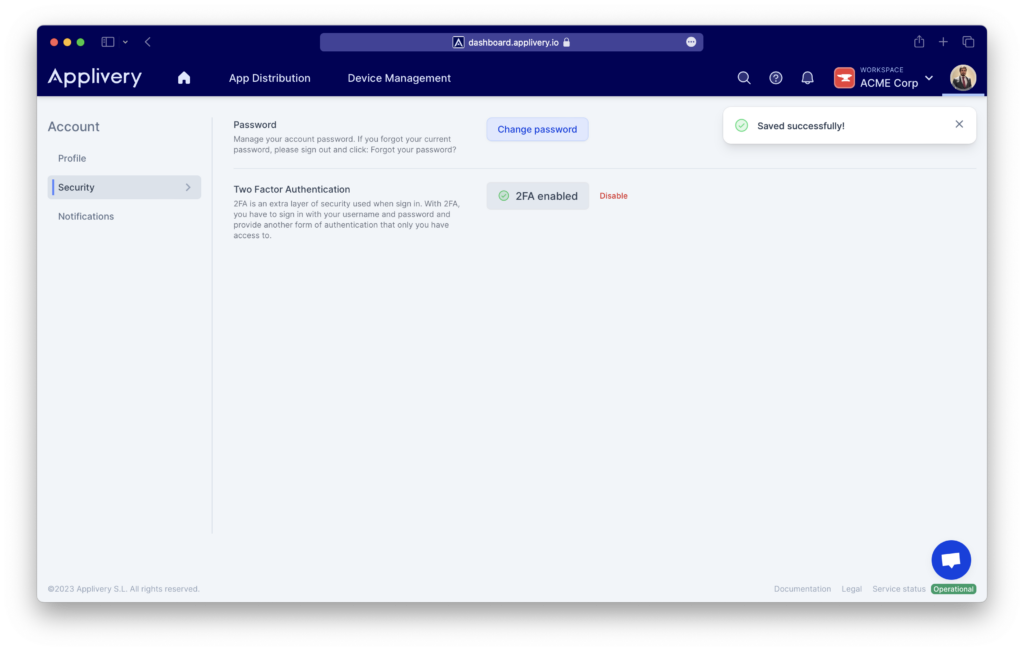 Once enabled 2FA in your account, a second step will be required in order to access your account. After entering your account credentials (email + password), an additional step will be prompted, requireting you to enter a one time code.
Use your Authenticator App to enter the one-time code before it get's expired.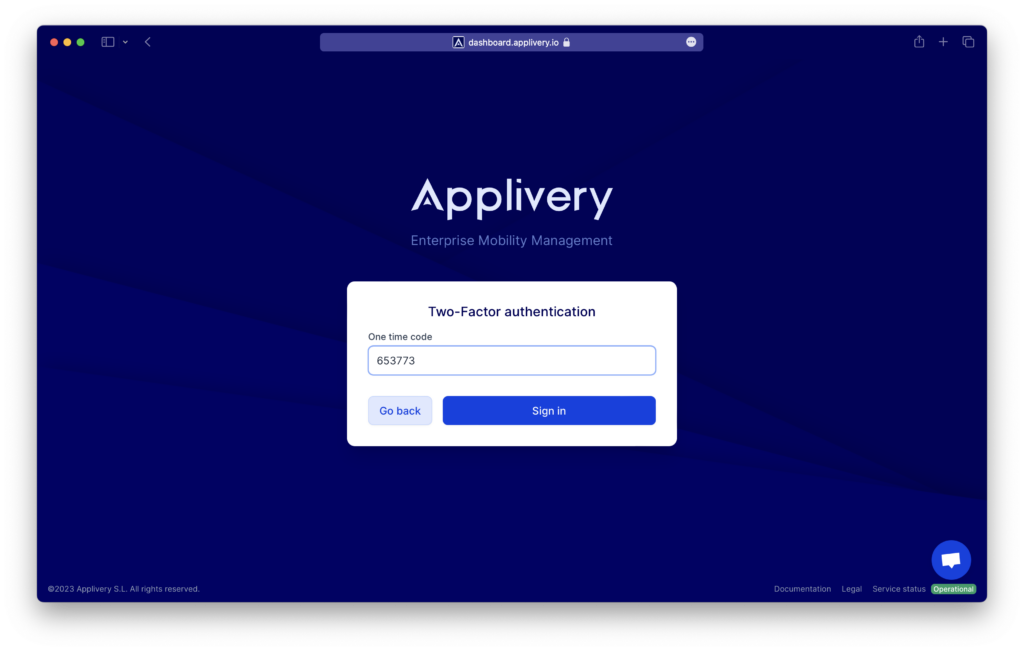 Although we highly recommend you to always maintain active 2FA in your account, you can disable it from Account > Security > Two-factor Authentication and clicking Disable.
For security reasons, Applivery will request you to enter your current password before disabling it. Enter your current password and then click Disable to confirm.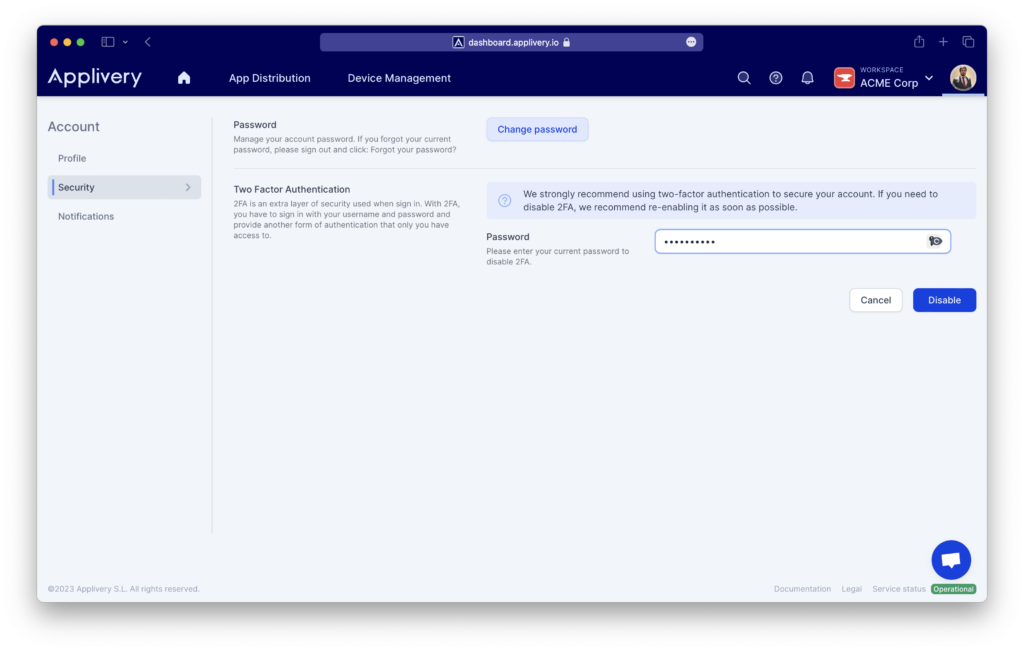 Note
Note that we will notify you by email about every security changes taking place in your account. We strongly recommend that you carefully review these notifications and, in case you detect any issues, we recommend that you promptly change your password and contact our support team at [email protected].