Applivery MDM and Android Enterprise allows you to manage and distribute your Private Apps in two different ways:
As a Self-hosted Private App managed outside of the Google Play Console (you can read more here)
As a Private App managed through the Google Play Console. It provides two options:

Use the Google's Managed Google Play Console account that will be created automatically when uploading Private Apps through your Managed Google Play.
Use your own Google Play Console for advanced configuration, automation requirements and more flexibility. You can read more about how to connect you existing Google Play Console Developer Account with Applivery here.
In this tutorial we will go through the second scenario (2.1), using Google's Managed Google Play Console account. If you are looking for an advanced management of your Private Apps, you can continue reading here.
Create and upload a Private App
Once in your Applivery Dashboard, go to any of your Policies section (under the MDM > Repository > Android menu). Click the "+ Add application" green button and then "From Google Play" option from the dropdown menu. Once inside your Managed Google Play, go to the "Private Apps" side menu option.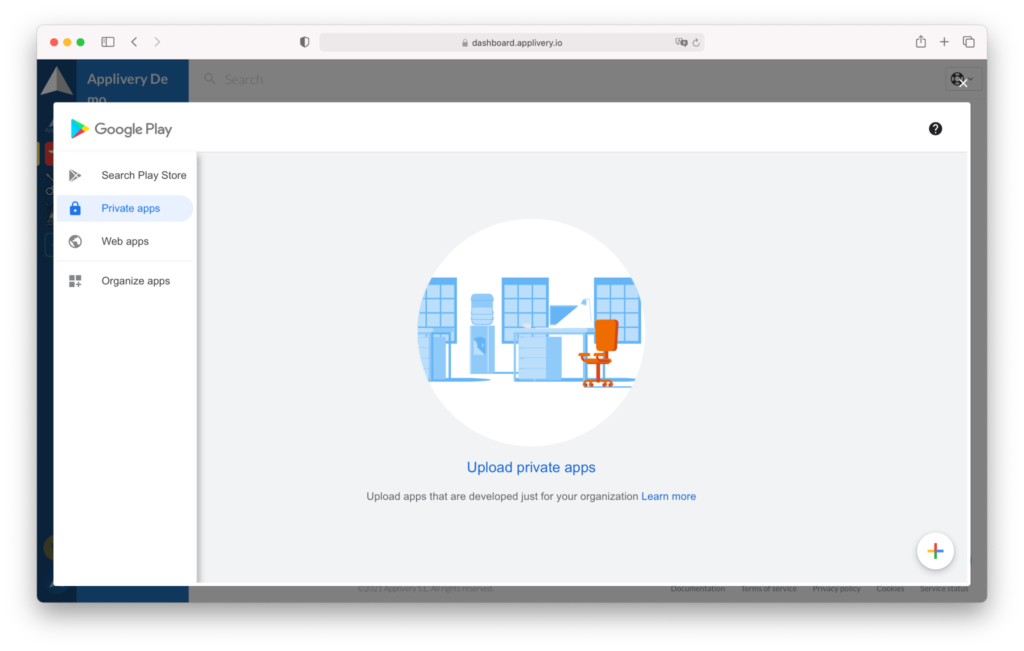 Now click the + circle button to start creating and uploading your first Private App. Choose a name for your App and browse your drive to select an APK file.
Warning
Please note that you are going to upload a new Private App to the Google Play Console so Google will reserve and block the package name of your App (i.e.: com.applivery.kioskapp) for this Organization and you will no longer be able to use it again in any other App or organization. We highly recommend carefully choose the package name or even add a suffix for testing purpose apps.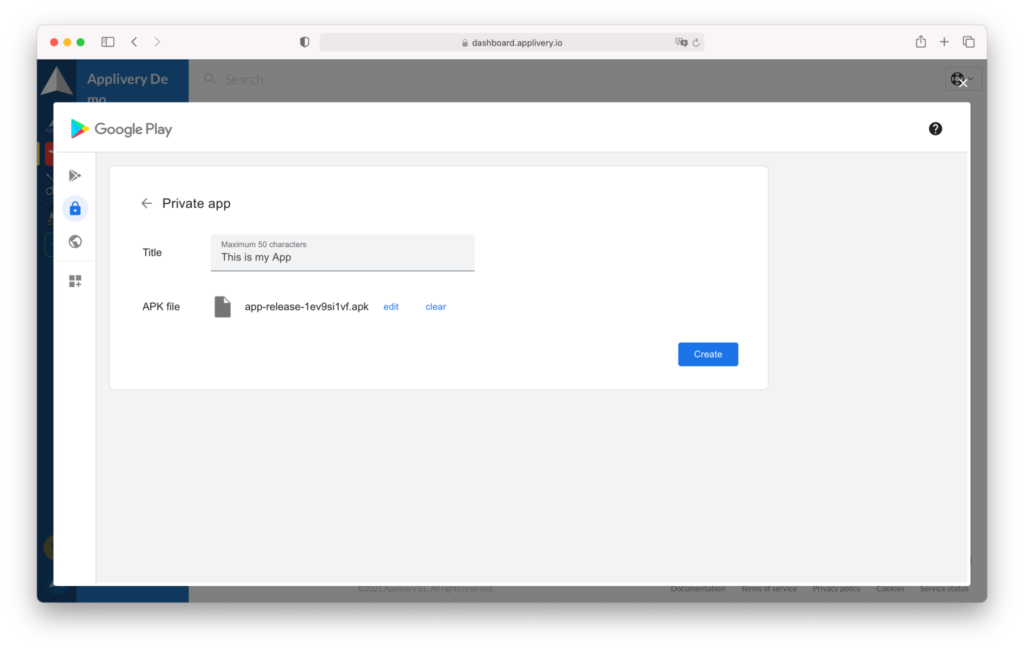 Once uploaded, your App will require between 2h to 48h to be folly available in your account. Note that this is the time that Google requires to Review and Publish your App.
Update a Private App or make advanced edits
You will probably want to update your private applications from time to time or make advanced edits to change the icon, description, language, or any other aspect of your application. These operations can be done from Applivery through the Google Play Console.
Upload a new version of your Private Apps
Just go to your Managed Google Play > Private Apps section and choose the App you want to update from the list.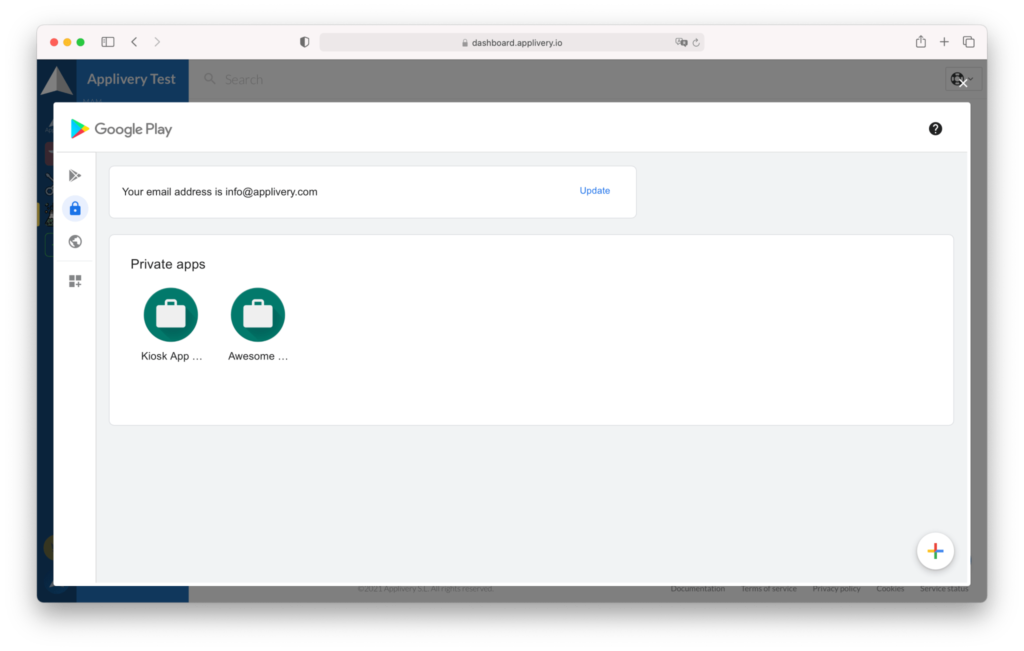 Now click the "Edit" button and select a new APK (.apk) file to be uploaded.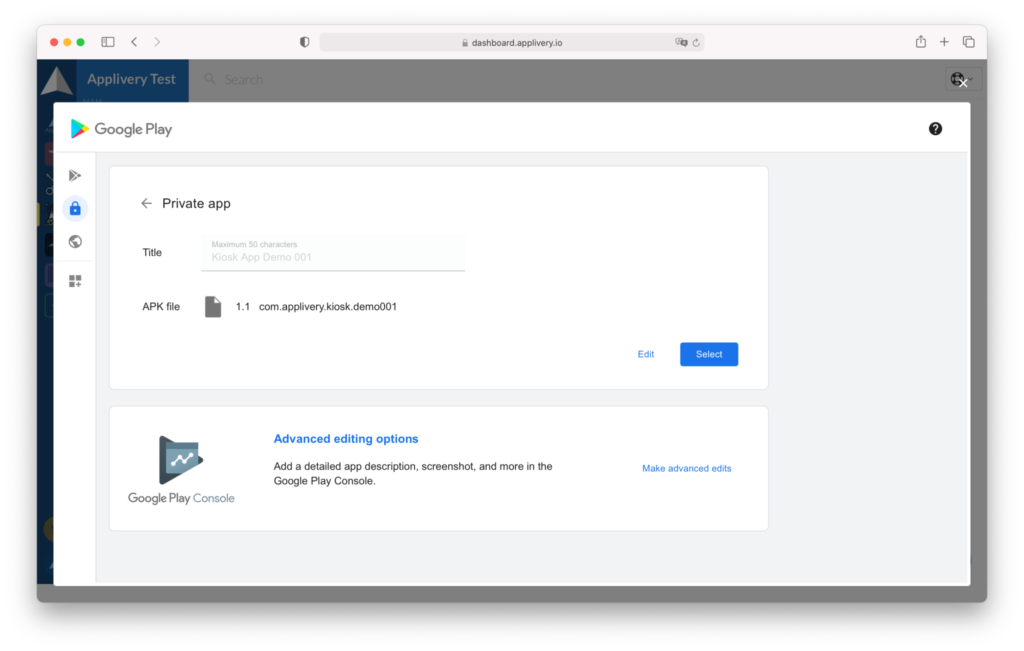 You can also fully customize the aspect of your App in your Managed Google Play from the "Make advanced edits" button that you will find below your Private Apps. You will be redirected to the Google Play Console where you can fully customize every aspect of your App and even upload new versions in a more advanced way (or even automated) through tools such as Fastlane or Bitrise.